Makalidurga hills or Makalidurga is located 60 kms north of Bangalore and 10 kms after Doddaballapura. You can easily reach this place within 2 hrs as the traffic is not that heavy on this side of the city. There is a hill fort situated near the village of the same name. There also an old temple of Lord Shiva at the summit and it is believed that Markandeya Rishi performed penance here.
Of late, Makalidurga hills has become one of the most preferred trekking destination for adventurers from Bangalore and other nearby places. Although the place is not commercialized, yet you can expect a sizeable number of people visiting the hills on weekends. The roads are under construction so you can expect a lot of diversions, dust, and traffic. However, the road condition after Doddaballapura improves considerably and you can have a decent ride/drive. Petrol pumps are plenty but it's always better to tank up.
For trekking lovers, the Makalidurga trek is the nearest trek from Bangalore. There are 2 ways in which you can start the trekking trail – one is by parking your vehicle at the Makalidurga railway station and then walking around 1.5-2 km on the railway track till you reach an unmanned level crossing. From this place, you follow a marked path to the top of Makalidurga hills.
Another way to start your Makalidurga trek is to go all the way to the trek starting point. You need to follow the road till you reach Makalidurga railway station. From there, proceed further till you come across a narrow muddy pathway to your left. You need to be careful as you might miss this left turn if you're riding/driving at high speeds.
Take the left turn and proceed further till you see a parking spot to your right. On weekends, you can see a considerable number of vehicles, especially, two-wheelers parked at this spot. This is the base of Makalidurga hills and is a safe place to park as there is a lady present to take care of the vehicles.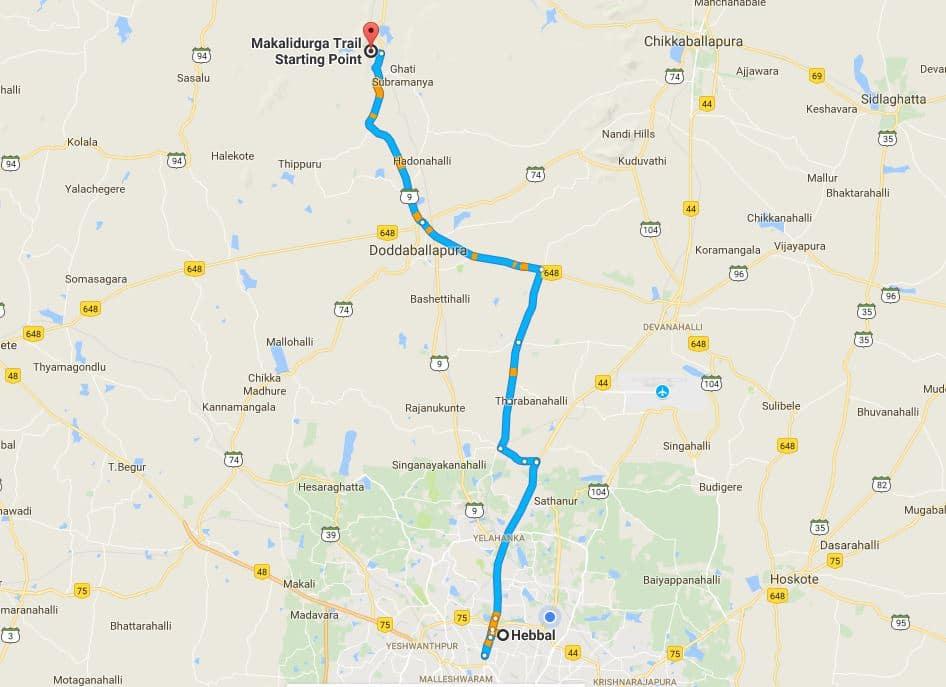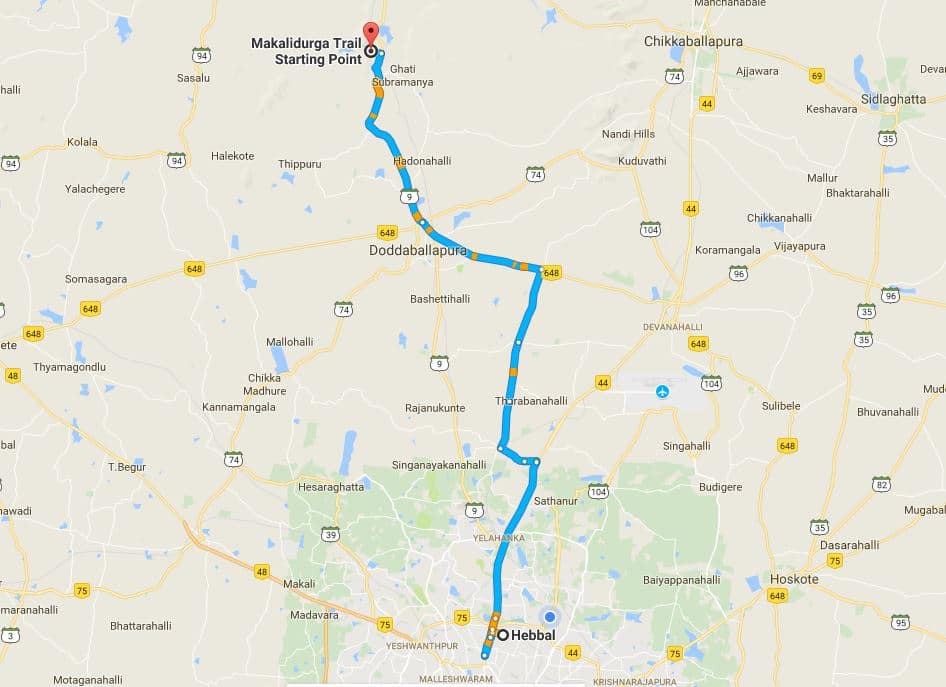 After parking your vehicles, proceed further up to the unmanned railway crossing. This is the same crossing discussed earlier in this travelogue. On the way, if you're lucky, you might even spot a coconut seller selling tender coconut water.
Cross the railway line or pose for a few photographs if you wish to and proceed further upwards. There're white markings on the stone and the initial part of the trek is not that stressful. Do make a note of the scenery and I'm quite sure you will fall in love with nature all over again.
Makalidurga trek is a medium to difficult level trek. Make sure to carry water and refreshments as there are no hotels or even small tea shops nearby. The only solace is the tender coconut seller near the parking spot. There is also a temple and some houses at the base of the hill where you can relax for a bit if you wish to.
After going ahead for a few meters, one can find an open ground with a view of the mountain. This is the place where you need to turn right and proceed further up. As mentioned earlier, the initial part of the trek is decent but as you start climbing upwards, you can feel the conditions become treacherous. Although it's not that scary or anything, people will find it easy to climb.
Once you reach the top, you can see some mesmerizing views of Gunjur lake, other mountains as well as the railway track below. If you're lucky enough, you can spot a goods train or a passenger train snaking its way to/from Bangalore.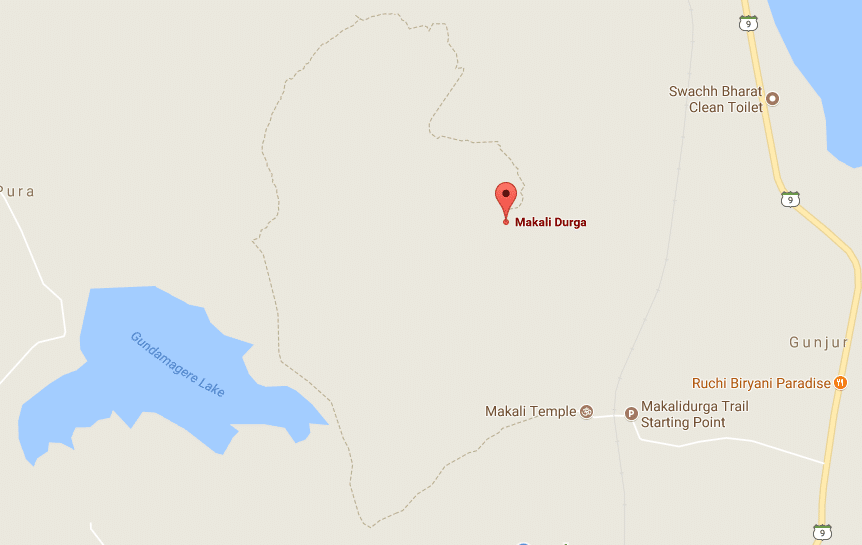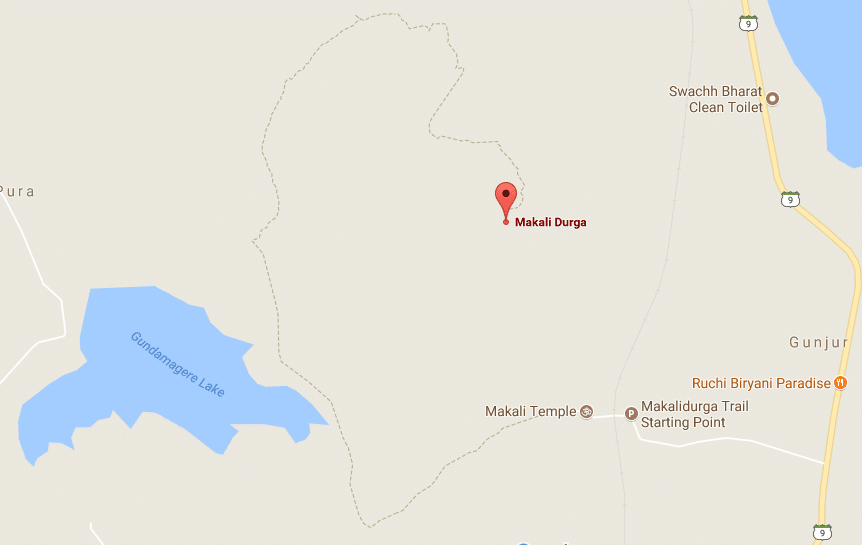 Important Notes about Makalidurga Hills / Makalidurga Trek:
1. It's better to start early so that you can trek easily. As the day progresses, it starts getting hotter and the heat can take its toll on you.
2. Carry water, refreshments, a first aid kit and of course a camera with you. The views from the top are not to be missed.
3. There're white marks on the stone which help you in trekking.
As far as our journey is concerned, being a Sunday, we started late around 09:30 hrs and reached Makalidurga railway station by 11 AM. We were 4 people in total – me, my wife, my brother-in-law and his friend. After spotting a goods train, taking tips from the station master and clicking a few pics, we proceeded to Makalidurga hills which is roughly 3-4 km from the station.
Having parked our bikes at the parking point, we proceeded to start our trek. After reaching 1/4th of the trek, my wife and I gave up and decided to take rest or walk all the way down to the parking spot. My brother-in-law and his friend proceeded further up after clicking a few pictures with us.
They finally managed to reach the top while we managed to reach the parking spot and thus began a long wait for these two. Finally, after waiting for almost 1-1.5 hrs, my brother-in-law and his friend showed up after a tiring trek to the top.
After having some snacks, we proceeded to visit the nearby Gunjur lake. This is the same lake that is visible from the top of Makalidurga hills. Upon reaching the lake, we parked our bikes near the lake and clicked some pics. The water is really dirty and you should avoid venturing into the lake. Swimming is strictly not advisable.
Spending around 20-25 mins at the lake, we started our journey back to Bangalore. The journey till Doddaballapura was uneventful and smooth. With hunger pangs in our tummies, we thought to stop over for lunch at Bhojana Kuteera (a pure vegetarian restaurant) near TB cross and bang opposite Doddaballapura Police Station.
The hotel was bustling with people but we still managed to find a table for 4 of us. The food was quickly ordered and consisted of Baby Corn Manchurian, Tandoori Roti, Dal Tadka, Mix Veg Curry, Lime Juice, Sweet Lassi, Jeera Rice and Ghee Rice. After an agonizing wait of almost 20-25 mins, the food was served and pounced on it like hungry grizzly bears.
The food was really awesome and after satisfying our tummies, we started again on our way back to Bangalore. As usual, the journey was uneventful and we managed to reach our home sweet home by 16:30 thus ending a short and quick ride to Makalidurga hills and back.
Before I end, just a few departing thoughts. Makalidurga hills is a must visit place if you're fond of trekking and adventure. Trust me, you're not going to get disappointed. My only advice is to leave early and enjoy the scenic beauty at its fullest.
Please do leave a comment below if you found this travelogue on Makalidurga hills useful. Suggestions and brickbats are welcome.
For pictures from the trip, please take a look below –