You thought it, Dubai has already got it! Unafraid of experiments and flaunting the quirkiest engineering, Dubai has set its foot forward in meeting not just expectations of the tourists, but also their unbelievable imaginations and dreams.
Besides the big names as Burj Khalifa, Dubai Mall, and IMG Worlds of Adventure, some lesser-known unique attractions deserve the same applause and attention.
Here is a compilation of 8 fantastic spots and hidden gems that you can hunt with your Dubai tourist visa and create amazing memories.
#1. Spend a Day at Al Qudra Lake Oasis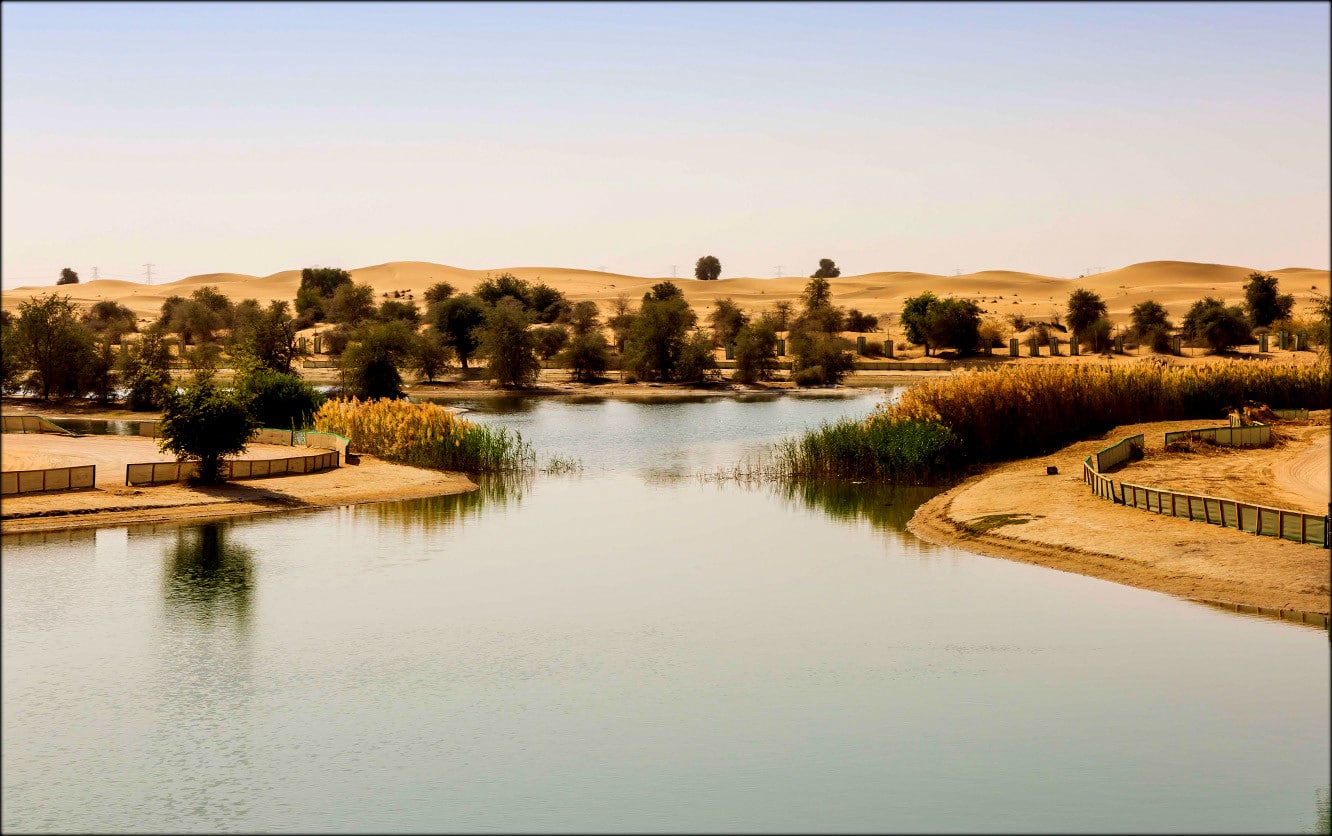 Swap the skyscraper and clamor of the city for a view of swimming swans and quacks of ducks. With a quick ride from Downtown Dubai, head towards the awe-inspiring and unusual Al Qudra Oasis, which is found in the middle of the Saih Al Salam desert on Dubai's southern outskirts.
Reach with the barbecue gear and picnic bags to bask in the sun by the series of manmade lakes. Enjoy quiet and peaceful time, spot rare wildlife and meet 100 species of birds. Even better, embark on a thrilling 4×4 safari over the dunes, see the sunset and relish BBQ buffet with cultural entertainment by booking Dubai's best desert safari.
#2. Feed Your Adrenaline at Aventura Parks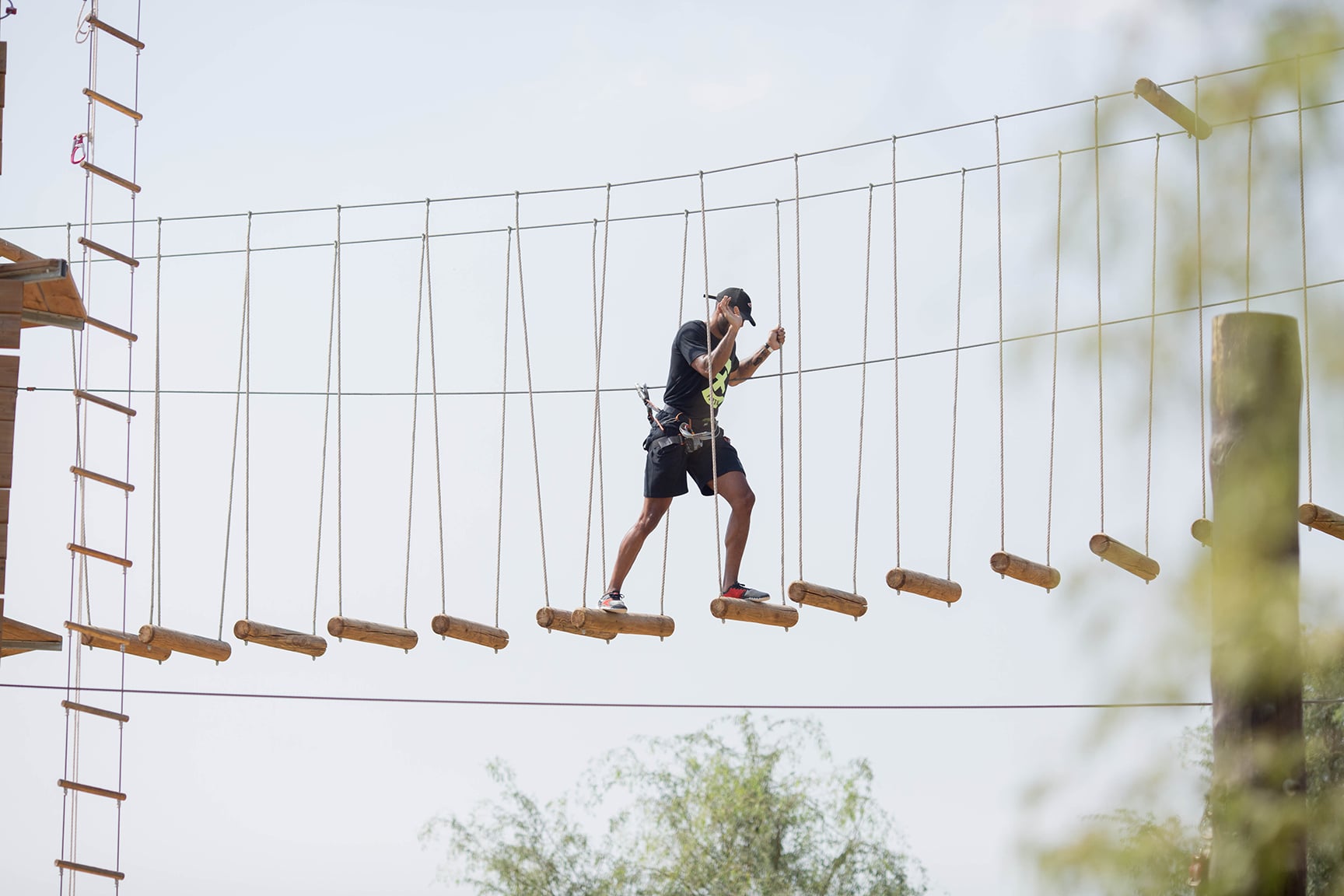 Dubai has never run out of options to entertain the tourists. And Aventura Parks is one all-inclusive outdoor destination that pumps your adrenaline with over 80 exhilarating challenges and obstacles. What makes it distinctive is these adventure activities will make you travel off the ground, and between the trees.
The 5 circuits separate the levels from children to pros, from zig-zag around the green parks and tree surfing to 160m long zip-lining. The choices are wide-varying – at a moment you are hanging to one of the thrilling series of 25 ziplines, and then other you are crossing high rope obstacles. The cafe offers delicious and healthy meals.
#3. Have an Up-close Encounter With Ocean Species at Atlantis Dive Centre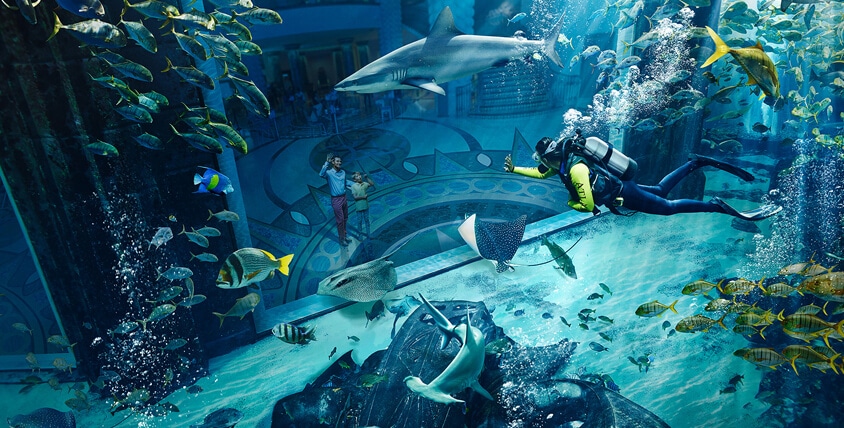 Want to unravel the underwater wonders? This PADI-accredited facility is home to 65,000 marine animals including sharks, stingrays and thousands of colorful fishes. And the best thing is you don't need to be a certified diver to swoop inside the Atlantis Dive Centre, Dubai.
Dive, snorkel or walk in this equipped ambiance with indoor saltwater pools, classrooms, equipment, and boat rentals. The divers wear the state-of-the-art helmet and underwater torch and get mesmerized being surrounded by the ocean species. It gets special when you hand-feed up to 14 different species of sharks and rays. Perfect for little ones to seasoned divers, the time spent here is beyond belief.
#4. Hold On Tight to the XL Zipline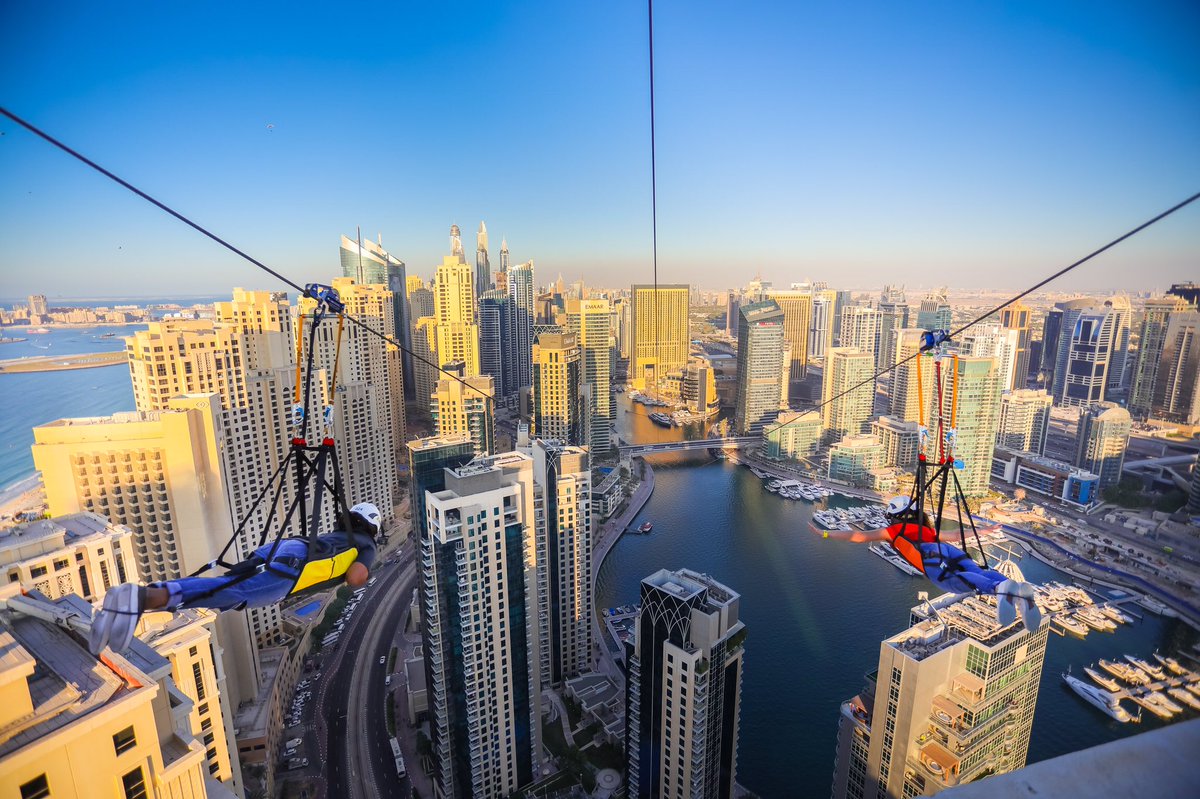 Did you have any clue that the world's longest urban zipline – XL Zipline, is nestled in Dubai? Covering 3200 feet of air, at an inclination of 16 degrees, and running at a stunning speed of 80km/hr – it is also the steepest and fastest zipline across the globe. This impressive attraction is planted in the maze of Dubai Marina's skyscrapers.
Either fly solo or double the excitement by gliding along with friends or family. Thanks to the GoPros that are mounted on the helmet that you can relive the memories.
#5. Enter the World of Snow at Ski Dubai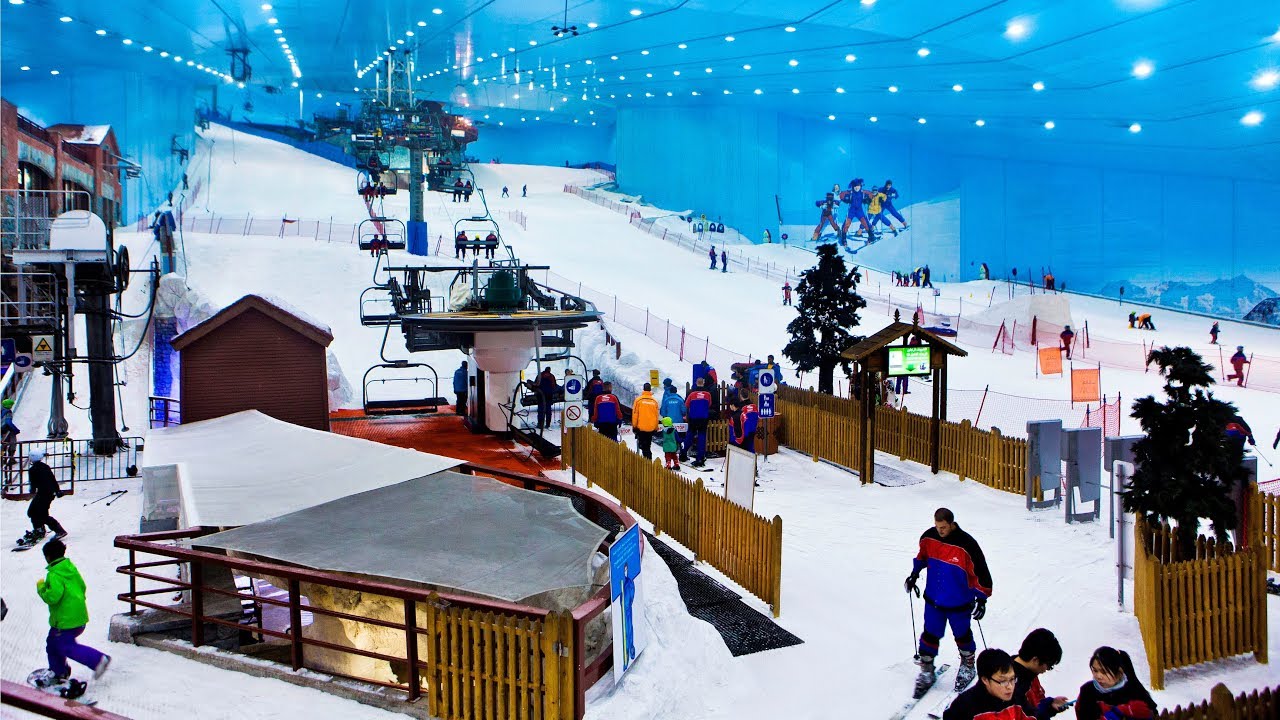 Ever thought you could fight with snowballs and ski in the desert? We told you Dubai goes extra miles to bring happiness to its tourists, and thus, it has brought the sensational Ski Dubai with lifts and tubing runs inside a mall. Yes, you read that right, this a full-fledged ski resort spread in 22,500 square meter area, and is the very first of its kind in the region.
Hit the slope, duck inside the ice cave, go zorbing on ice, race down on dual zipline, snowboard and do chairlift ride. If this isn't enough, meet and interact with the most cutest creatures, penguins. Feel the warmth with a cup of hot chocolate in the cafe.
#6. Shop, Dine, and Revel at Global Village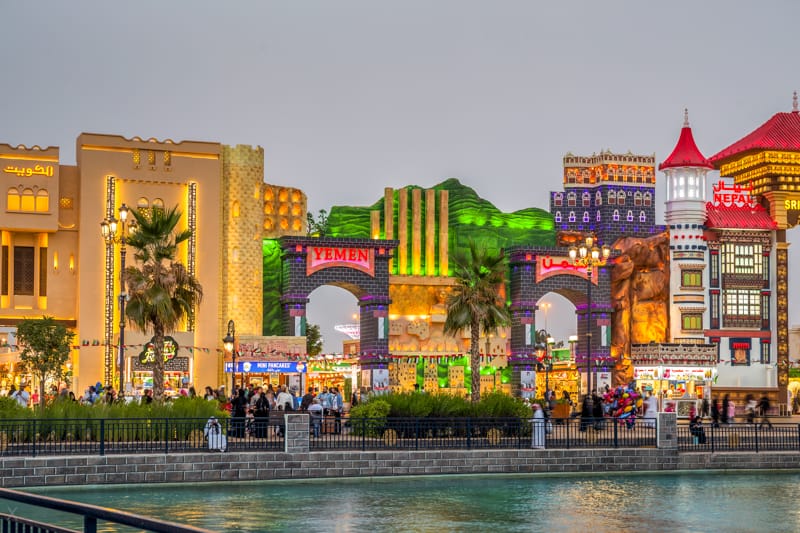 What about exploring the culture of various countries without crossing the boundaries? Global Village is the region's first destination for culture, shopping, and entertainment. While a part of it is devoted to children and adrenaline junkies who want to go on roller coasters and rides, the other part gives unlimited access to crazy shopping and dining.
You can stumble upon the replication of iconic sculptures from different cities across the globe, such as Big Ben of London and Leaning Tower of Pisa. The breathtaking performances and star-studded concerts bring life to the evening. Keep gobbling snacks and meals on the way at different dining options to taste the multi-cuisine.
#7. Wander in the Dubai Miracle Garden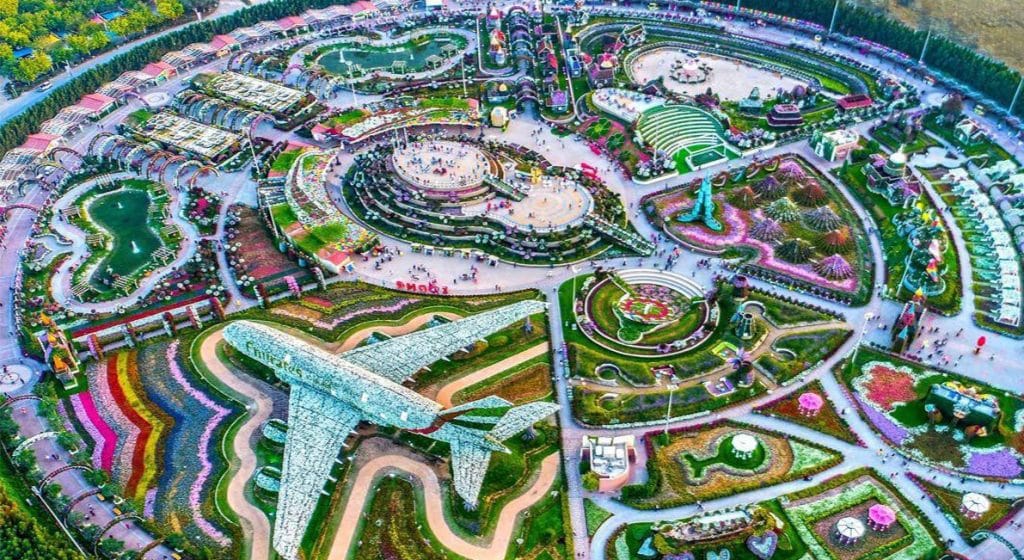 Opened its eighth season in November 2019, the Dubai Miracle Garden is a manifestation of its name.
Beneath the concrete jungle, this garden appears like something straight out of a fairytale, which is composed of 150 million fresh and natural flowers. Meandering through the innovative junctions made out of colorful blossoms is both refreshing and rejuvenating.
Few breathtaking floral renditions are Aerial Floating Lady, Disney Avenue, Big Teddy Bear, Airbus A380 and heart passage. This year, there has been a new introduction of 400 m walking track that will feature costume and floral parades, street performers, Zumba sessions, and more. Restaurants, sitting areas, trampoline, prayer rooms, souvenirs are also available for visitors.
#8. Soar Indoors at iFly Dubai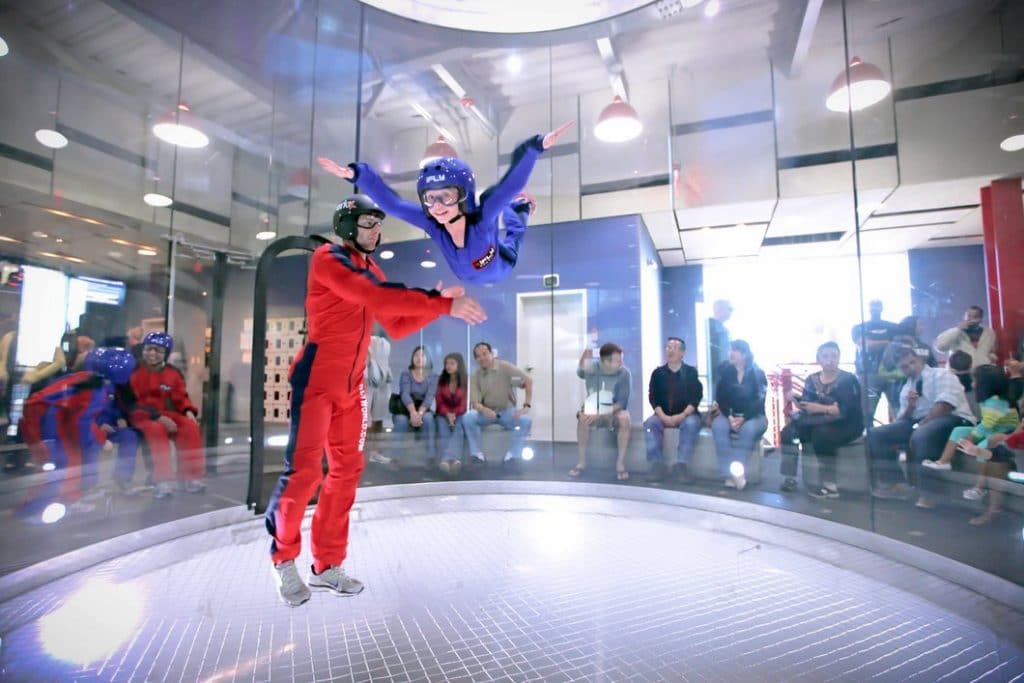 Afraid of real skydiving? Dubai has got an alternative. The first in the region, located in the City Centre Mirdif, iFly Dubai is made to defy gravity in a 10-meter double vertical glass wind tunnel.
Gear up with wind suit and eye protection, and be ready to be blown away at a height of 3 meters with the gust generated by the machine. Depending on your level of comfort and sense of adventure, the expert and instructor would make you fly, spin, twist, and flip. Take pictures during these moves that will make a fascinating Instagram post.
So, keep your zest and enthusiasm high the next time you think of exploring Dubai because the city has more than what meets the eyes.