To read Part 1 of the 2019 annual rail pilgrimage series, please click here.
2 days of our trip had passed and we were thankful to the almighty for treating us to some pure Alco action. While Punjab provided us with Vitamin G (Greenery), Rajasthan, this time, provided us with Vitamin R (Rains) and that too in excess.
Just a week before our trip was to commence, there were heavy torrential rains in Kutch and Rajasthan which lead to flash floods and, as a result of which, all the trains were either canceled or short terminated at various stations en route. Though we had a backup plan, we never had to actually put it into action as the rain Gods showed some mercy on us.
Jodhpur (16th August 2019)
With the rainfall not showing any signs of abating, we had to stay put in our hotel rooms. I slept for some time and woke up when it was time for lunch. Luckily, the rains stopped and after a sumptuous meal consisting of ginger naan, paneer, dahi, zeera rice, and dal, we took an auto to visit Mehrangarh Fort. The ride to the fort was an eventful one and we thoroughly enjoyed it.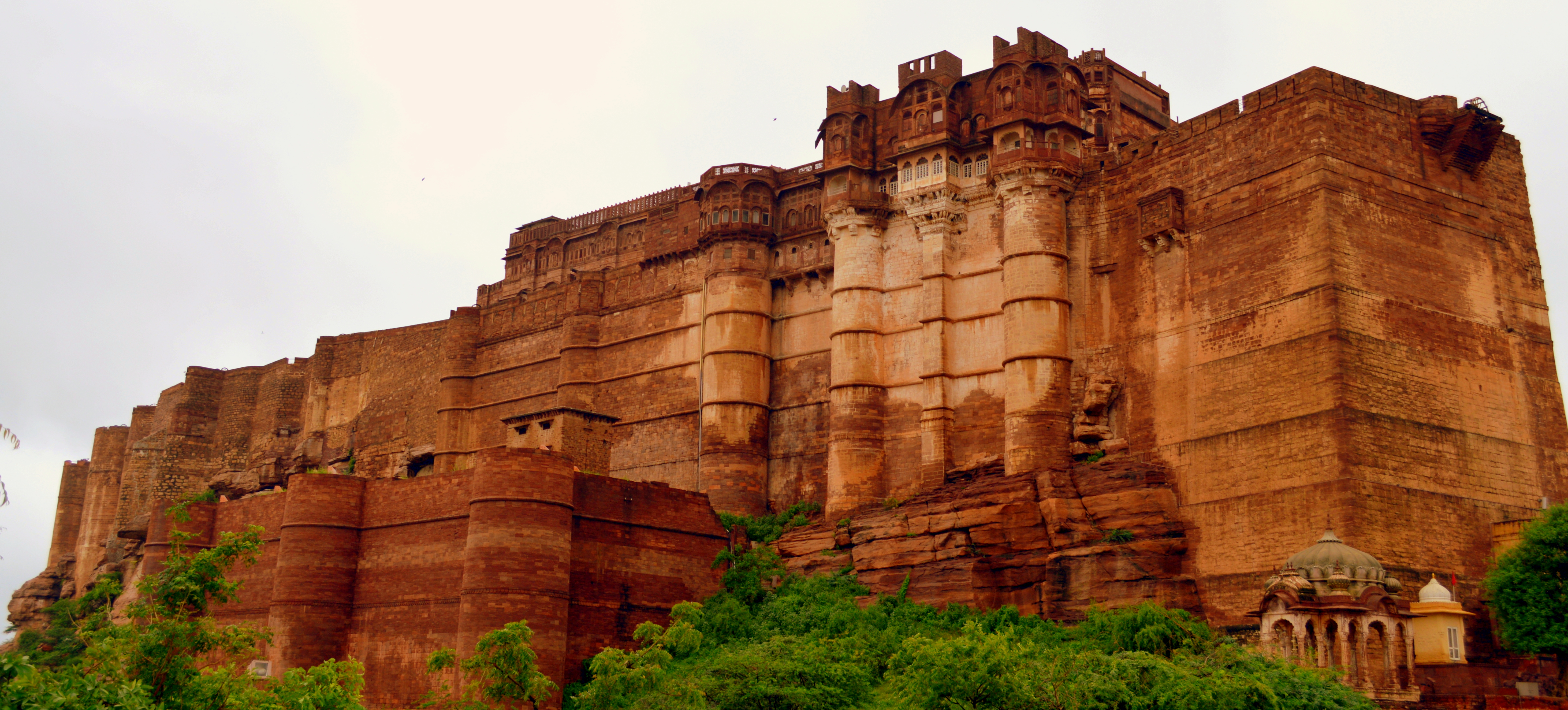 The weather was pleasant and cold and upon reaching the fort, we took some snaps and a customary selfie. We explored the interiors of the fort, did some shopping (Mr. Ganesh Iyer bought 4 lac bangles ;-)), when, all of a sudden, it started raining cats and dogs once again. We were lucky to find an auto who agreed to take us back to our hotel, although, at surge pricing.
We were fully drenched and reached our hotel in around 20 mins post which, Chechu mama and I feasted on Jodhpur's famous piyaz kachori and tea. We came back to our rooms, dried our clothes and ourselves, packed our bags yet again and checked out around 7 PM to catch our train to Gandhidham. The streets were filled with water and with great difficulty, we reached the slippery Jodhpur railway station.
As Chechu mama and I waited for Rajee and Ganesh to arrive, a peculiar large-sized 6-blade ceiling fan caught our attention which was recently installed by the authorities. Rajeev and Ganesh arrived in the meantime and we headed to PF 3 where our train was to be shunted.
PF 1 was occupied by the Mandore Exp. to Delhi and after negotiating the slippery floor and the overbridge, we came down to PF 3 where our train Jodhpur – Gandhidham Exp. and Jodhpur Howrah Exp. were reverse shunted together. These were decoupled later and departed towards their respective destinations at the same time i.e 8:30 PM.
Our coach B1 (the lone AC coach in the rake) was at the other end of the platform and we got drenched once again while trekking from one end to the other. With the narrow pathway packed with all sorts of luggage, we managed to reach our bay with great difficulty. There was a marriage party traveling next to us and their chatter continued well into the night on a wide range of topics.
Rajeev and I went for the customary loco check. Our train was to depart at 8:10 PM but till 8:15 PM, there were no signs of any loco getting attached to our train. Finally, after a while, a Vatva alco got coupled to our train and around 8:50 PM, we had a simultaneous departure with Mandore Exp.
Our AC 3-tier coach was in Utkrisht livery and the bathrooms seemed spacious but otherwise, there was not much of a difference. In the meantime, we had our dinner consisting of alu parathas and curd which we had packed from the hotel. Ganesh Iyer, on the other hand, was showing keen interest in the discussions of the women of the marriage party 😉
Meanwhile, as we skipped various stations, news came in of water flowing on tracks on the Pali Marwar section. As it was drizzling, we feared the worst and just before Luni railway station, we were halted for a very long time. Finally, after 2 trains crossed, we were let in on PF 3. We got down, had a quick cup of tea, and occupied the 3 doors on the opposite side to enjoy the magnificent horseshoe curve.
It was entertainment, entertainment, and pure entertainment with the alco chugging, humming, and negotiating the curve beautifully, the cold and pleasant weather, and the 3 of us door plating. I went to sleep soon after and woke up while we were nearing Gandhidham.
Gandhidham – Bhuj – Gandhidham – Ahmedabad (17th August 2019)
The route from Samakhiyali to Gandhidham and beyond is dotted with cement and tiles factories, salt pans, warehouses and much more. But with flash floods and excess rains, the surroundings were lush green. There were multiple caution orders in place as well. We crossed river Saang and arrived on Gandhidham PF 3 at 6:30 AM.
A lone vendor was selling tea and after a cup of tea with biscuits, we headed to the AC waiting room to freshen up. Our next train to Bhuj, the 22955 Kutch Exp. was running late and was expected to arrive by 8 AM.
Rajeev and I decided to walk around and explore the station. Rakes of Gandhidham – Howrah Garbha Exp. and Gandhidham – Tirunelveli Humsafar Exp. were parked next to PF 3. We then went to explore the Gandhidham Diesel Loco Shed, one of the oldest and probably the first MG (meter gauge) shed in IR.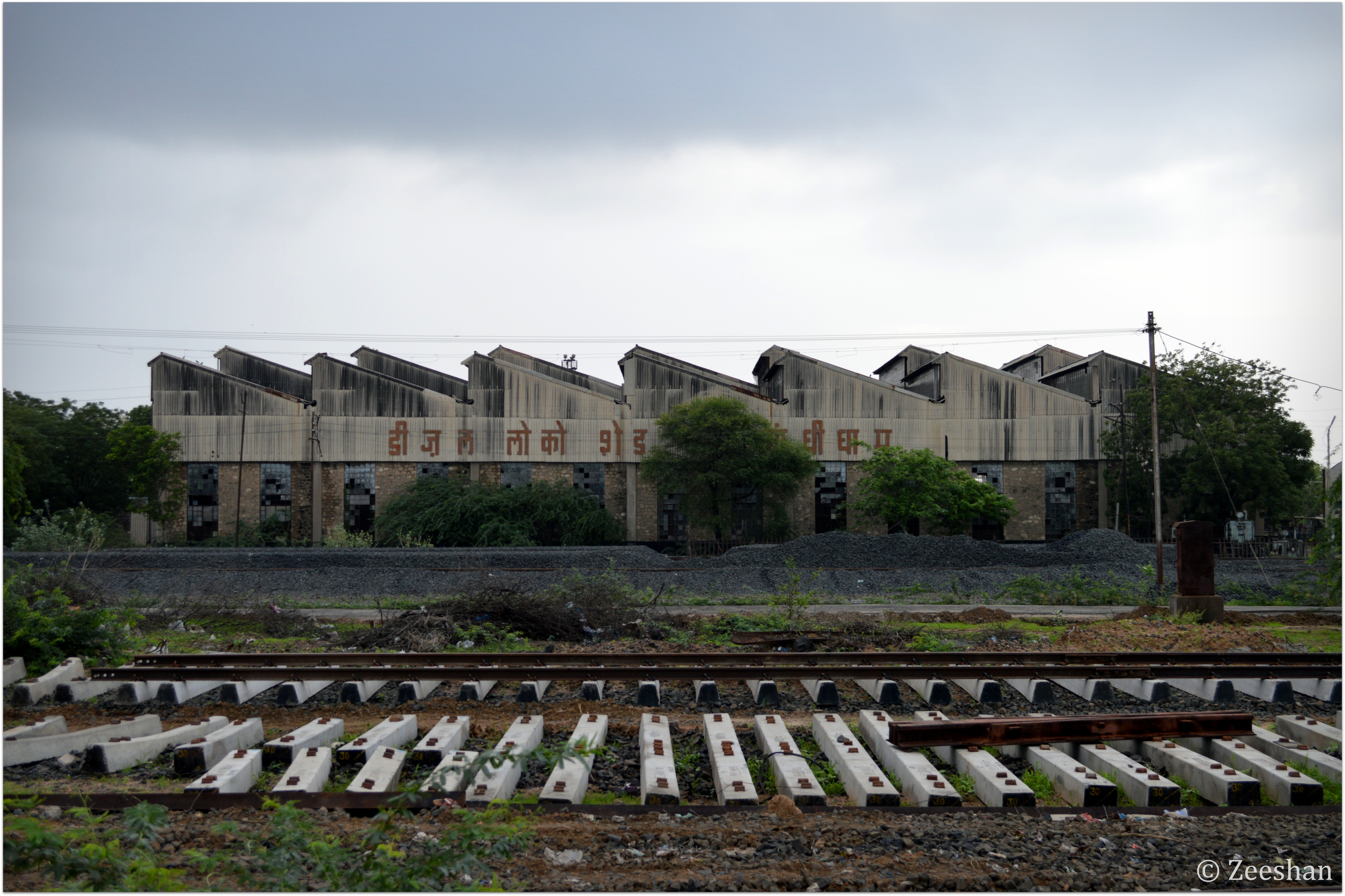 The DLS (Diesel Loco Shed) was in a dilapidated state and had 4-5 locos undergoing maintenance. We chatted for a bit with an employee and he gave a quick intro about the shed, the locos homed, and the new GE shed that was coming up at a distance.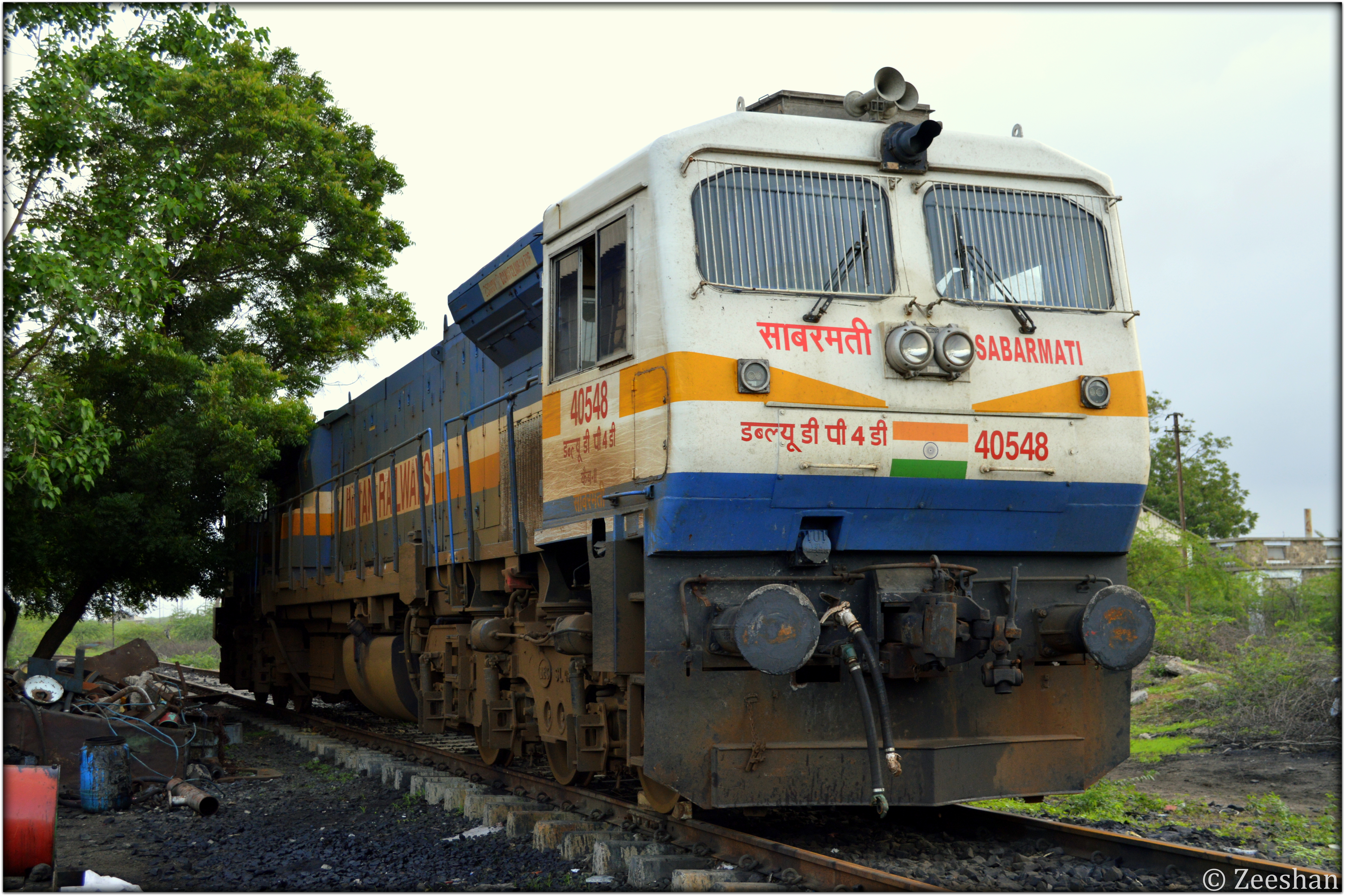 Waving him goodbye, we came back to the waiting room and waited for our train to Bhuj to arrive while catching up on the daily news. Our train arrived around 8:10 AM and we filled our tummies with poha, fafda, and tea while waiting for the train to depart.
We had booked in the sleeper class for this short ride from Gandhidham to Bhuj and all the coaches were relatively empty. We boarded S5 and then moved to S4. My plan was to door plate all the way from Gandhidham to Bhuj and enjoy the early morning ride.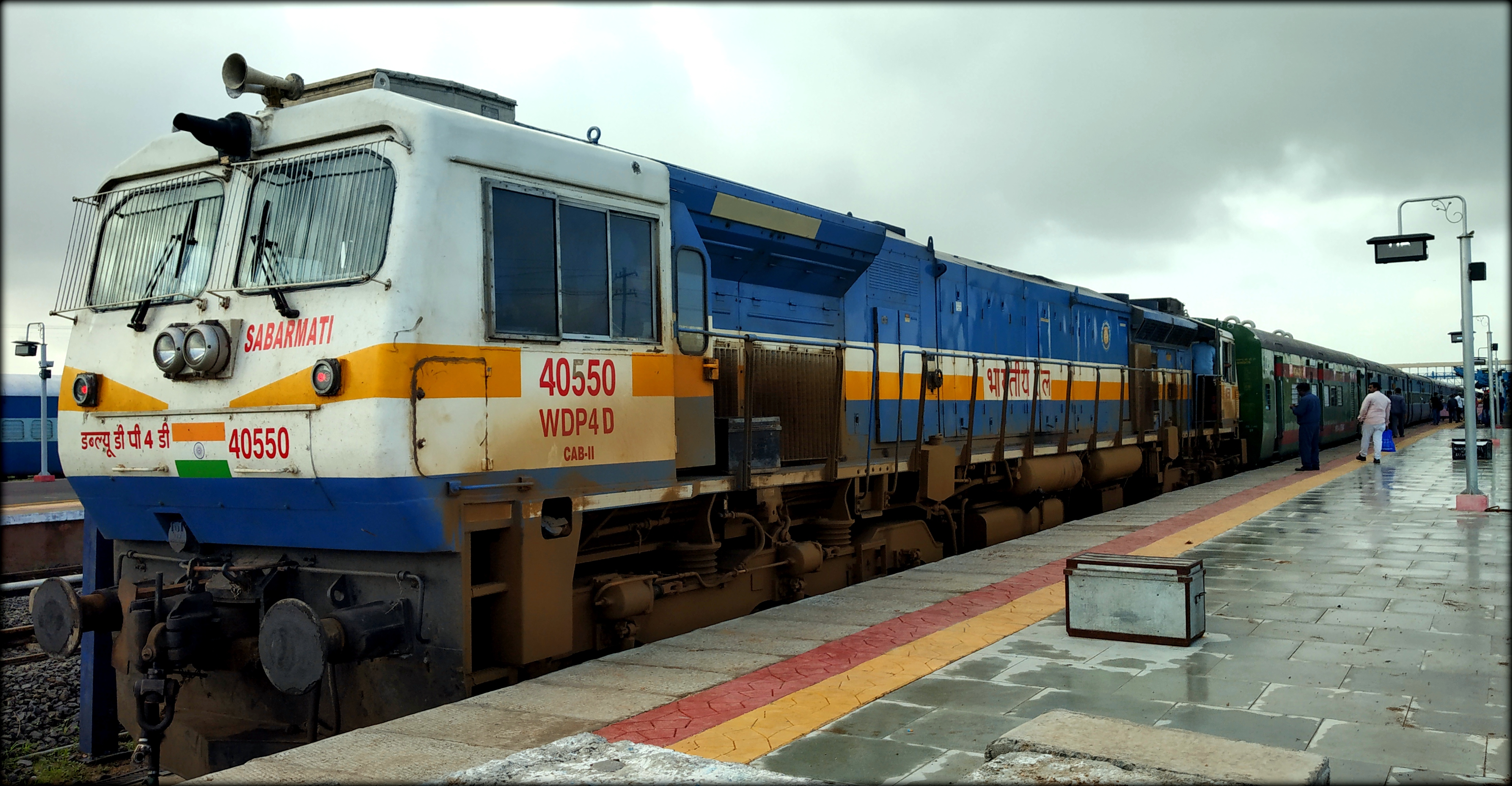 We departed from Gandhidham and curved right towards Adipur. The railway line passed through slum areas and people were busy with early morning chores. After a quick 10-min ride, we reached Adipur and left after a 2-min halt. Our train then curved right and took the single line towards Anjar and beyond.
Our next stop was Anjar post which there was a considerable change in the landscape. There were lush green fields, hillocks, temples, and windmills. It was a perfect rural setup. A quick drizzle made the weather pleasant as we were cruising towards our final destination. My decision to door plate was indeed a paisa vasool one.
Crossing Ratnal and Kukma, we finally arrived at Bhuj at 9:55 AM. We walked towards our hotel which was within the station campus. Outside the station, we could see an MG steam loco named 'Samay Smruti' plinthed. We checked in, freshened up, and came down to the restaurant to have a yummy breakfast consisting of poori sabzi and tea.
Post breakfast, Ganesh Iyer and I then took an auto and headed to the famous 'Khavda Sweets' to buy some local snacks and sweets. We came back, took a bath, and rested for a while before heading for lunch. The lunch was a lavish affair with rotis, dal fry, malai kofta, zeera rice, gujarati kadhi, and curd.
Filling our stomachs, we checked out around 3:30 PM to catch the 22904 Bhuj – Bandra (T) AC Exp. to Ahmedabad. This was our last train ride and we were to take a red-eye flight from Ahmedabad to Bangalore. Our coach B5 was in utkrisht livery. We departed right time at 3:50 PM and gained speed. Anjar and Adipur railway stations were skipped at sedate speeds and we arrived at Gandhidham around 4:45 PM.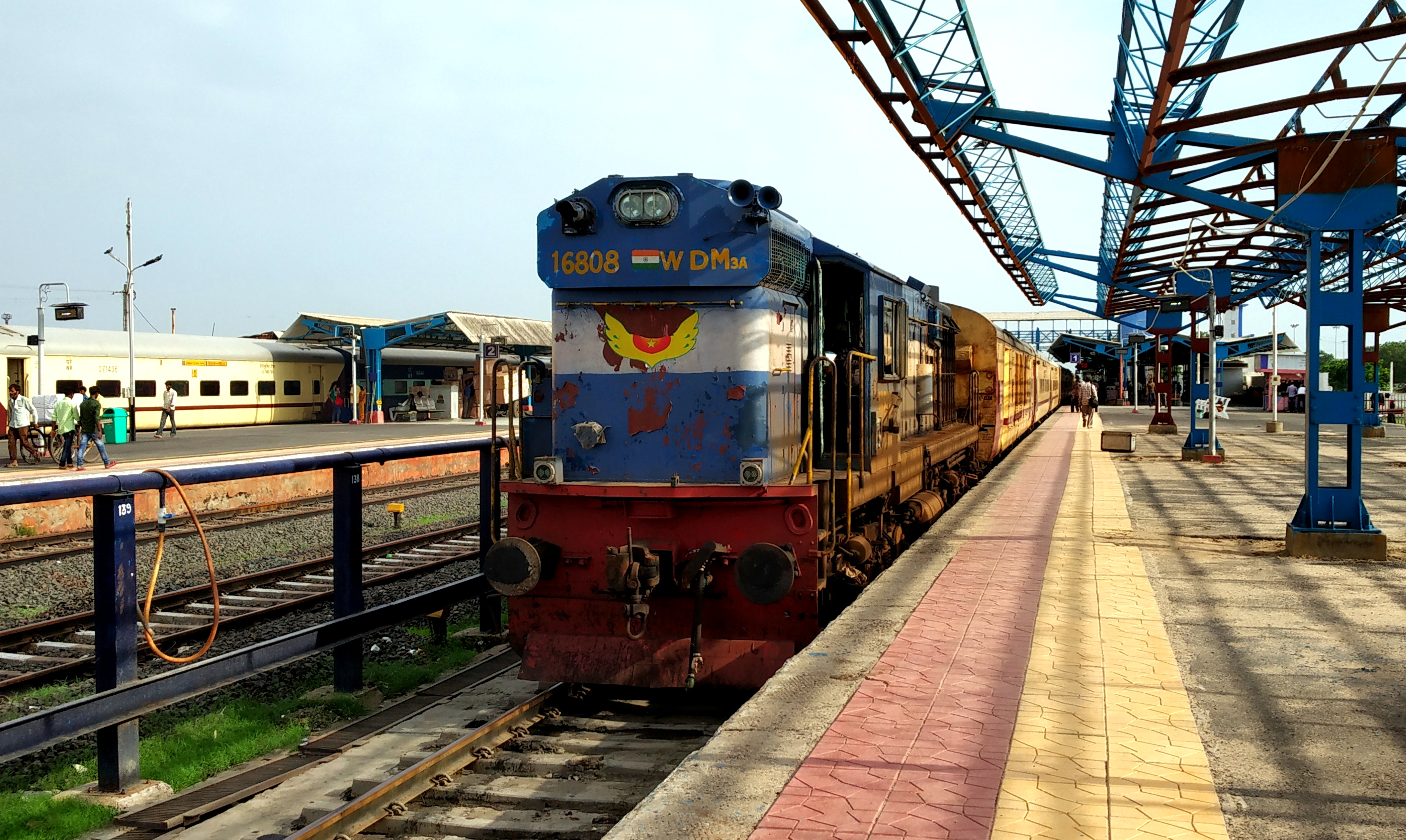 We spotted a couple of freight trains as well going towards/coming from Mundra. After a quick loco reversal, we departed at 5:20 PM. The landscape was dry and dotted with a lot of factories. We had to negotiate a lot of caution orders between Bhachau and Samakhiyali as the area had received heavy rains. Electrification work was also going on at a steady pace.
With the highway running parallel to the tracks, we were racing with a lot of trucks, buses, and cars. Post Samakhiyali, we could spot a number of windmills that signaled the arrival of Hadakiya creek or 'The Great Rann of Kachchh'. Our train slowed down to 15 Kmph and it took us almost 5 mins to cross the creek.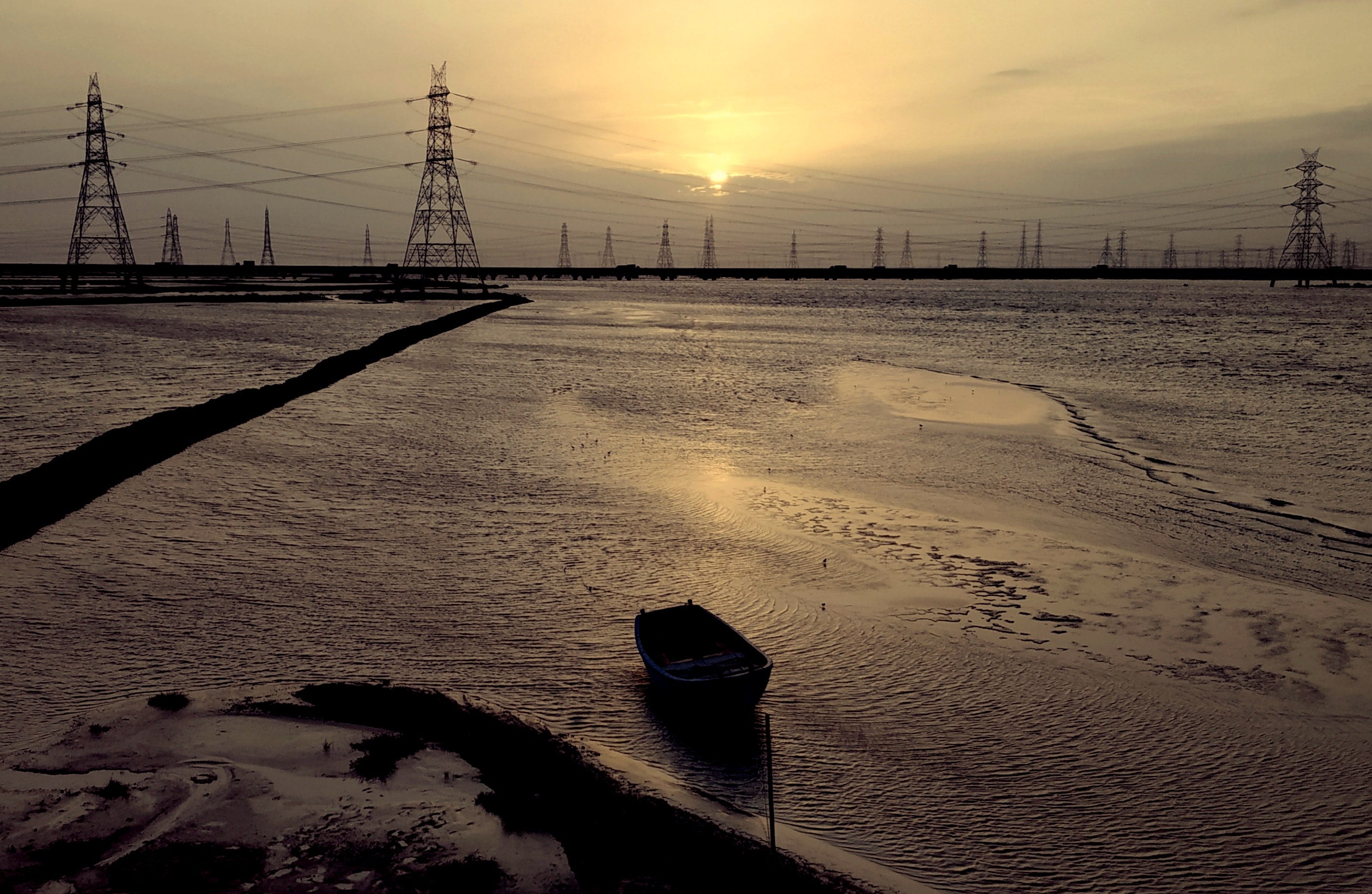 The creek had a good amount of water and the seawater gave us company for a few more mins post which the landscape turned green as we entered Maliya Miyana which resembled freight heaven with at least half a dozen freight locos. The line to Morbi diverged from here.
Post departure from Maliya Miyana, we continued at a sedate speed and crossed a lot of freighters. Some of these were python rakes with the second freight rake attached just after the caboose of the first rake. We reached Dhrangadhra and departed soon after and had dinner consisting of theplas, spicy chutney, and cake.
The freight action continued and, after a while, a line from the right joined which meant we were reaching Viramgam. We could also spot high rise OHE at Viramgam. We had a 5-min halt at Viramgam and Saurashtra Mail that was berthed next to us was allowed to proceed first.
We departed from Viramgam and were cruising along. We had accumulated a delay of 30 mins and after crossing the Sabarmati river, we arrived at Ahmedabad PF 4 around 10:20 PM which was a blessing in disguise. Here's why?
We were earlier booked on an Indigo flight from Ahmedabad to Bangalore which was to depart around 11:20 PM. However, with our train delayed by 30 mins and another 30-40 mins to the airport, we could have been denied boarding. But with luck on our side, that flight was cancelled a couple of months earlier by Indigo and they shifted us to an earlier flight leaving at 8:00 PM. Taking that flight was not viable and hence we asked Indigo to cancel our booking for which we got a full refund.
We then booked an Air India flight leaving at an unearthly 3:05 AM and arriving Bangalore by 5:15 AM. This also gave us a chance to explore Ahmedabad International Airport Terminal 2.
We booked an Uber to the airport and reached by 11:00 PM. After a quick machine-made tea at the Wagh Bakri outlet, we made our way inside the terminal and joined a long queue to have our bags scanned. I was carrying one small bag with me and seeing that a lady with 5-6 big suitcases wondered how can I travel light. In her mind, probably this was against the rules of travelling and I should be sent to the gallows 😉
After a wait of 30 mins, our bags were scanned and we then proceeded to the check-in counters. Post check-in and security, we reached the boarding gate and searched for a spot to sleep. However, other than the stiff steel chairs, there was nothing. It was only 12 AM and we had to pass another 2-2.5 hours at the airport.
We then decided to sleep on the chairs itself. Though uncomfortable, I managed to sleep for a while and woke up around 1:15 AM. Feeling hungry, we had veg puffs and then proceeded to join the boarding queue. Boarding finally commenced at 2:55 AM with VT-CIQ being the aircraft that was to take us to Bangalore.
We took off soon after and I dozed off. We were served tea and snacks post which I slept again for a while and woke up as we were landing at Bangalore around 05:20 AM.
The landing was uneventful and after collecting our luggage, we hailed an Airport Taxi to head home. We bade farewell to Chechu mama who had a connecting flight to Chennai. Our journey covering 5 states had finally come to end after 5 days. Meanwhile, here are some highlights from our trip:
We covered 5 states – Gujarat, Rajasthan, Punjab, Haryana, Himachal Pradesh, and the national capital territory of Delhi in 5 days
3 of our train rides were on Alcos
All the trains that we had chosen had ICF coaches
In spite of electrification going on at a steady pace, we enjoyed pure diesel action starting from Delhi and ending at Ahmedabad
My first flight onboard Air India
We also got to travel once again on Delhi Metro's Airport Express which is Standard Gauge
The total distance covered was more than 5000 km
If I have to sum up this 5-day trip, I would only say that it was a wonderful experience exploring some unchartered territories. With a little help from the Almighty, we were able to execute our plan to the T and give it a perfect finish. A big thanks to Rajeev, Chechu mama, and Ganesh Iyer for making this possible.
So, where do we head this year? The Whatsapp group is buzzing again 😉
Thank you for taking this ride once again with me. I do hope you liked this one. Have a happy and prosperous 2020 🙂