Right from my childhood, trains have been my fascination and whenever an opportunity arises, I try my best to sneak in a quick ride. Sometimes, things fall in place but sometimes….. Well…Read on…
The Annual Rail Pilgrimage 2018 was a roller coaster ride with Rajeev Nair, Ganesh Iyer, the young Chechu mama, and yours truly covering close to 5 Indian states and riding on the fastest and slowest trains on Indian Railways.
So, once the four of us were back from our trip, the WhatsApp group that we are a part of, started buzzing with dream-itineraries, train and flight schedules, new routes, travel plans for 2019 and beyond. While we had initially planned to cover the Tapti valley section + Jamner – Pachora NG line, things just didn't seem to fall in place.
Also, with rail routes in Rajasthan being a prominent feature on our last 2 trips, we just can't seem to leave it out this time around as well. There's definitely something that pulls us to this extremely beautiful region year after year and after much dilly-dallying and multiple rounds of discussions, we decided on the following:
Fly from Bangalore to New Delhi
Catch the Rajdhani from New Delhi to Jammu Tawi
Take 19224 from Jammu Tawi to Jodhpur covering Punjab & Rajasthan
Take 22483 from Jodhpur to Gandhidham and 22955 Kutch Exp. from Gandhidham to Bhuj
Return to Ahmedabad by 22903 Bhuj Bandra (T) Exp.
Take a late-night/red-eye flight from Ahmedabad to Bangalore
The intent here was to cover the rail lines that are in close proximity to the western border with Pakistan. Also, except for the flight and the Raj route to Jammu, all the remaining routes promised us pure diesel action. In fact, we were lucky to witness Alcos in action on two of our chosen routes.
We chose the 4-day long independence day weekend (14th-17th August) for our trip and waited for the reservations to open. However, a couple of days before the reservations were to open, I had a gut feeling that being in J&K around independence day won't be a great idea especially with increased security checks and sensitivity of the place. It was a wise move as we realized later in the coming months.
The WhatsApp group buzzed again and we tweaked our plan to Bangalore-Delhi-Pathankot-Jodhpur-Gandhidham-Bhuj-Ahmedabad-Bangalore. Post-approval by the youngest member, Chechu mama, we made all the bookings and the countdown started.
The D Day (14th August 2019)
After a wait of close to 4 months, on a hot and humid Independence Day eve, I left my home around 1:00 PM to join GI (Ganesh Iyer) on our way to the airport. The ride was uneventful and we reached Bengaluru International Airport by 2:30 PM to catch our Air India flight to Delhi which was to depart at 5:00 PM.
Check-in and security took close to an hour post which we headed to the lounge to have lunch. After filling our tummies, we headed to the boarding gate on the ground floor. On the way, we were lucky to meet Mr. Syed Kirmani, former Indian wicket-keeper.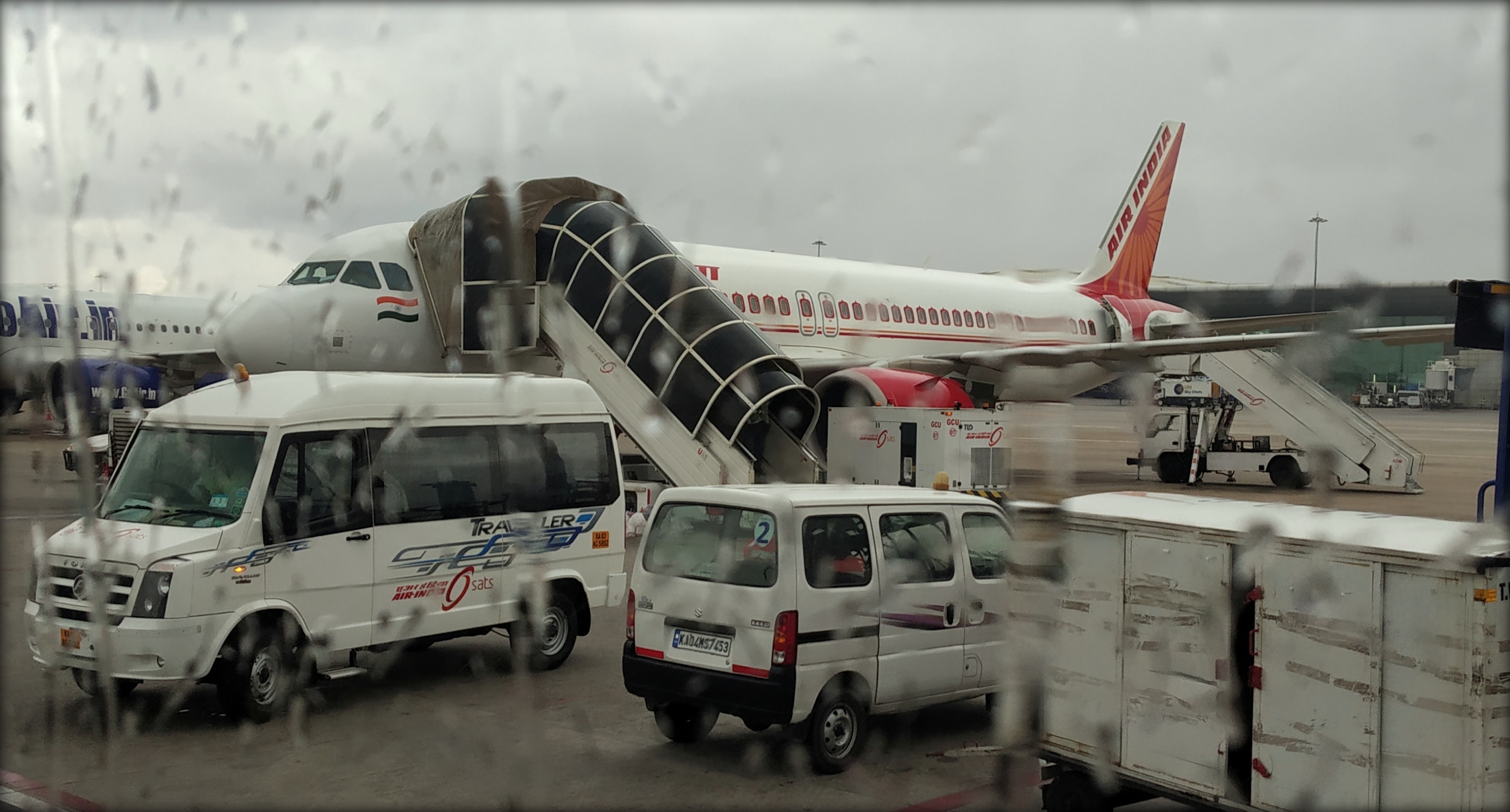 It was drizzling outside and boarding was completed by 4:50 PM. VT-EXV (Airbus A320Neo) was the aircraft that was going to fly us to the Indian capital. It was also my first flight with Air India and I was not disappointed. We were served snacks on board and the journey was dull and boring. Finally, at 7:20 PM, we landed at Delhi T3 and made our way to the baggage reclaim area.
The terminal was full of people arriving from different corners of India. After a long wait (close to 30-40 mins), our bags arrived and we then headed to the T3 metro station to catch the Airport Express metro to the New Delhi railway station where Chechu mama and Rajeev Nair were to join us.
The weather in Delhi was hot and humid and after a quick yet stuffy metro ride, we reached New Delhi railway station. The station was decorated for Independence Day and looked as beautiful as a decked-up bride.

After meeting Chechu mama and Rajeev, we booked an Uber and headed to Pind Balluchi restaurant near Delhi Sarai Rohilla station. Negotiating the evening Delhi and Rohtak-bound highway traffic, we reached Pind Balluchi around 10:15 PM to fill our tummies once again for the night. The recent rains in the area created more misery than solving it.
Crossing the road and reaching the opposite side was like a battle won wherein we had to navigate amidst buses, 2-wheelers on footpaths, slush, and potholes.
Our train to Pathankot, Dhauladhar Exp. was to depart at 11 PM and upon reaching the restaurant, three empty plug points were immediately captured by us to charge our phones. We had a quick dinner consisting of tandoori rotis, dal fry, paneer butter masala, and zeera rice and thanking the owner, we were on our way to Delhi Sarai Rohilla by 10:35 PM.
It was a long walk and by the time we reached the station, we were drenched in sweat. Our train was to arrive on PF 4 and we were in no mood to take the stairs. There was chaos all around and the hot and humid weather only added to our suffering. Huffing and puffing, we took the lift and somehow reached PF 4 wading through swarms of people.
Our train was reverse shunted and we quickly occupied our berths in HA 1. I took the side upper berth and waited for the train to depart. In the meantime, the TTE came and checked our tickets but our train showed no signs of moving.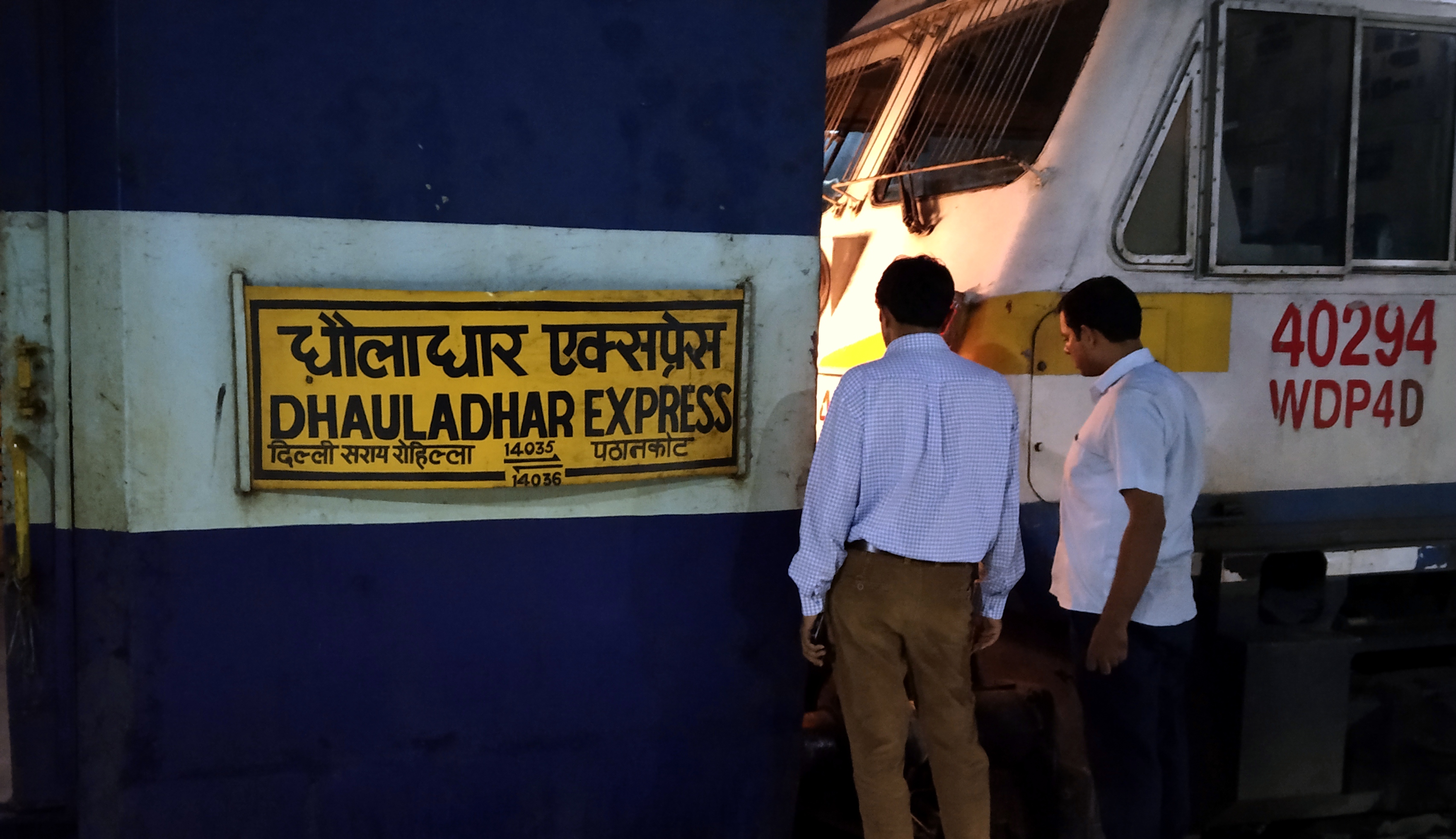 Finally, after a delay of around 20-25 mins, the loco honked and we departed. I made my bed and dozed off only to wake up at Jalandhar Cantt. Sometime around 3 AM, we passed by railfans and semaphore's paradise Dhuri Jn.
The Day of Independence & Vitamin G (15th August)
We were running late by around 30 mins and post-Jalandhar Cantt., our train took a right towards Pathankot. The landscape was filled with lush green fields, a highway that ran parallel for quite a while, gurudwaras, and schools. Punjab was teeming with greenery all over. We also crossed streams and canals every now and then. We also spotted a lot of military trains in this part of India. It was indeed a heavy dose of Vitamin G (Greenery).
Our scheduled arrival time at Pathankot was 08:25 PM and with a delay of 30 mins, we were expecting to arrive by 9:00 AM. We had also booked retiring rooms to freshen up, change, and have breakfast. Our next train 19224 to Jodhpur was to depart at 10:55 AM. However, the section controllers had something else in mind.
We were held up at Bhogpur Sirwaal for close to 30 mins. There was neither an overtake nor a crossing. Also, there was no mention of any line block and we only prayed to God to make us reach Pathankot with some buffer time in hand.
We crossed a lot more stations and trains after Bhogpur Sirwaal but the delay and our prayers just kept on increasing. We then crossed the river Beas and entered Himachal Pradesh for a short while. A couple of stations were skipped at the maximum speed and we re-entered Punjab after crossing the river Chakki.
After a quick halt at Pathankot Cantt., we took a right towards Pathankot and diverted from the mainline to Jammu. At 10:10 AM, we were deposited on Pathankot PF 1. Announcements for our next train 19224 were being made and with just 45 mins in hand, we chucked our original plan of going to the retiring room and quickly made our way out of the station to have breakfast.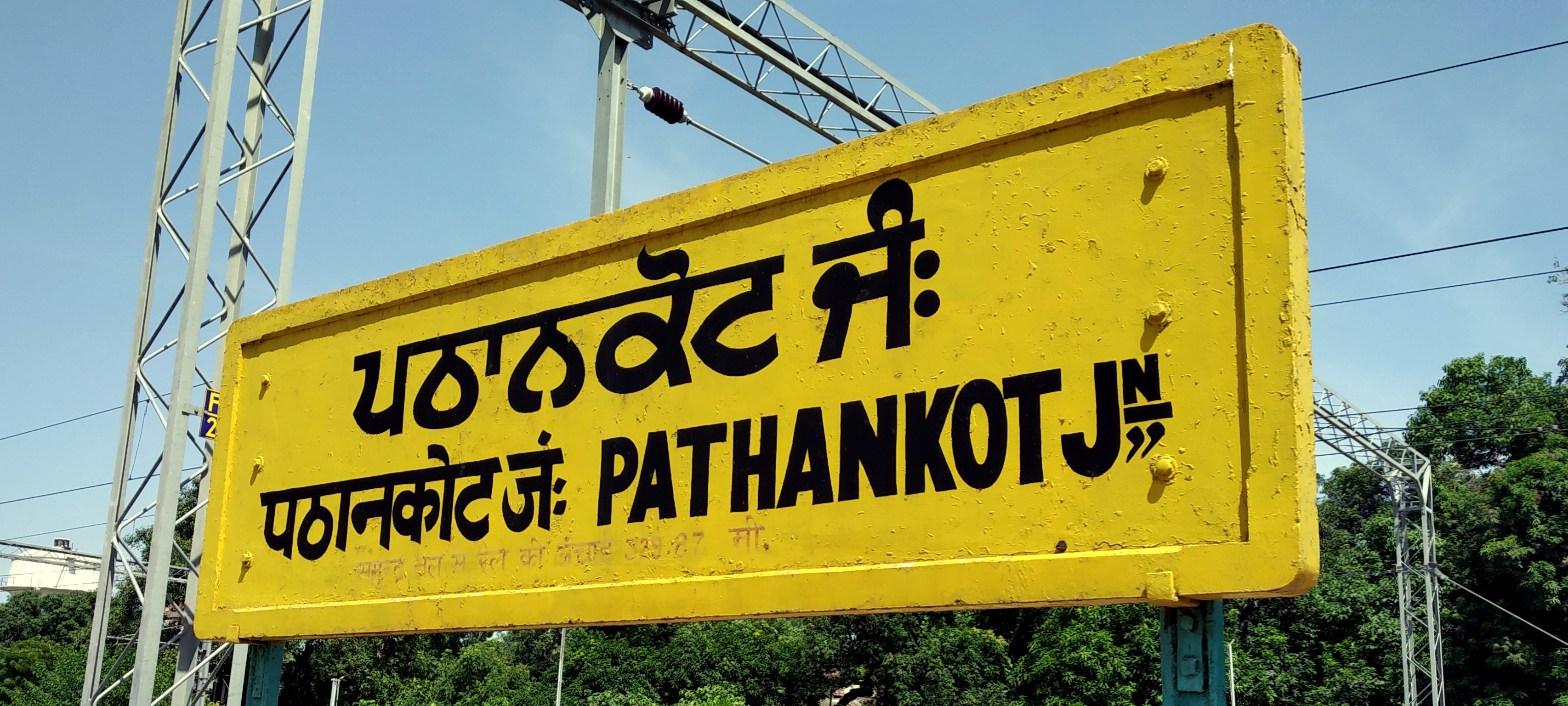 Being a sensitive place and with increased security everywhere, Pathankot railway station resembled a fortress. The station became silent within a short span of time as a majority of the passengers were bound for Dalhousie, McLeodganj, and other nearby tourist places.
We found a small little stall and quickly finished our breakfast consisting of alu paratha and light-brown tasteless sugary water (tea). It was 10:40 AM and then made our way back to the railway station to catch our train. It was a long walk in the blazing sun and we made it to our 2A coach with 2 mins left for the train to depart.
Exactly at 10:55 AM, our train departed and slowly gained speed. We passed through the same stations and crossed Chakki and Beas rivers once again. I then decided to take a quick nap and woke up at Jalandhar city. It was drizzling and after a wait of 5-10 mins at the outer, we got the proceed signal and arrived on PF 2. On PF 3 was our counterpart, 19223 to Jammu Tawi.
We had ordered pizzas from Domino's through IRCTC e-catering and they were delivered hot and fresh at the station. Our train departed after a 5-min stop post which, we pounced on the pizzas which satiated our hunger. I then decided to doorplate for some time and enjoy the natural scenery. In the meantime, we also passed by Rail Coach Factory, Kapurthala.
As we progressed towards Rajasthan, the heat increased and the landscape also began to change from lush green to dry/arid. We then crossed the mighty Sutlej river and after a few more stops, arrived at Ferozpur Cantt. where we underwent a rake reversal and a quick loco change. We had veg puffs which were tasty and tea and returned back to our coach. We departed after halting for 10-15 mins and were now on our way to Bathinda Jn.
Since this was my first trip to this part of the country, the stations that we crossed en route to Jodhpur had peculiar and interesting names like Kotkapura, Romana Albel Singh, Ajit Gill Matta, Pipli Pakhi Kalan, Giani Zail Singh Sandhwan, Gangsar Jaito, Goneana Bhai Jagta, etc.
We reached Bhatinda Jn. around 6:10 PM and had another round of tea.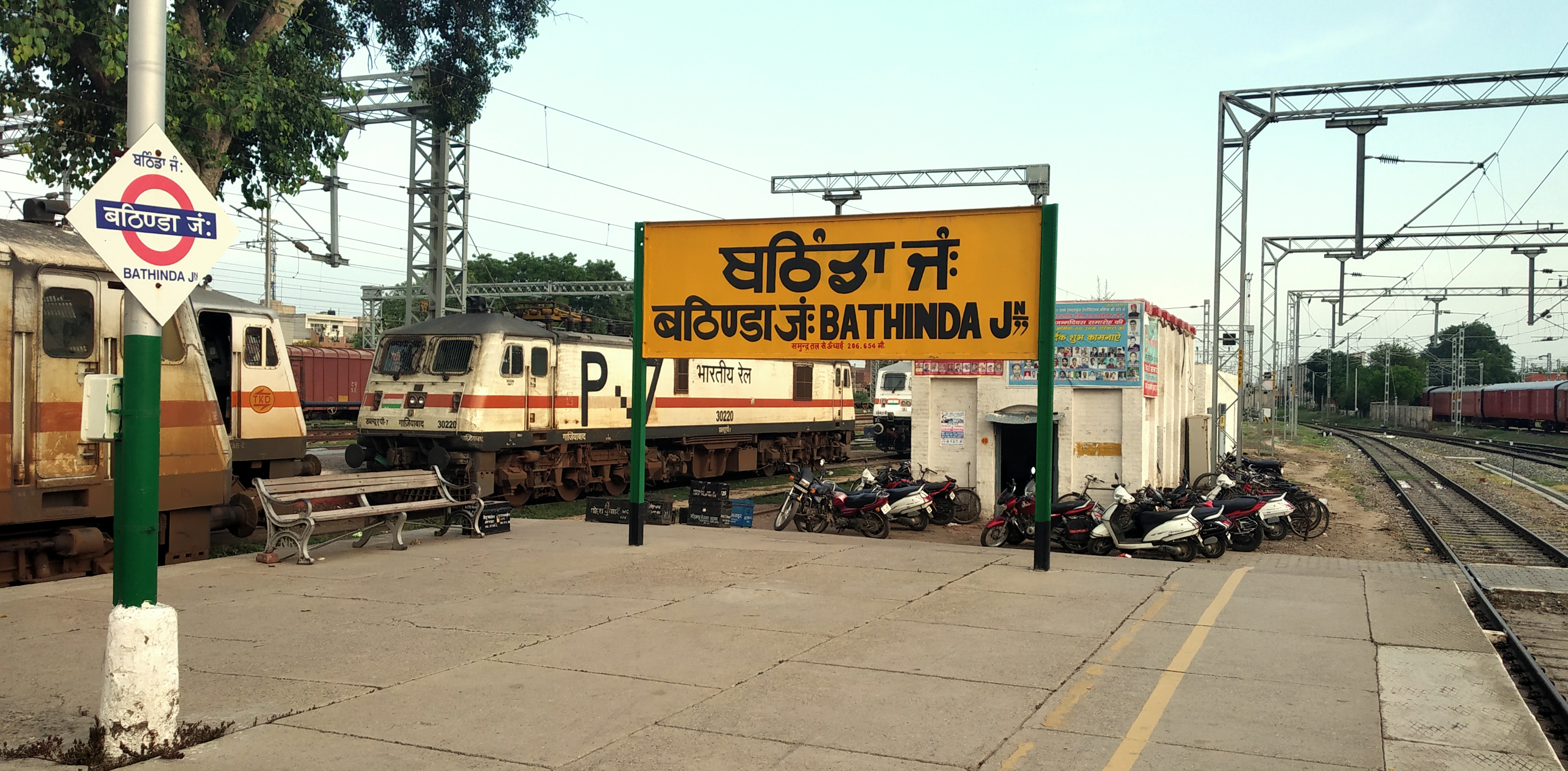 Bhatinda Jn. was teeming with locos from all over the country. We even saw IR's new induct WDG4G. There was a stall selling piping hot bread pakoras and chole bhature.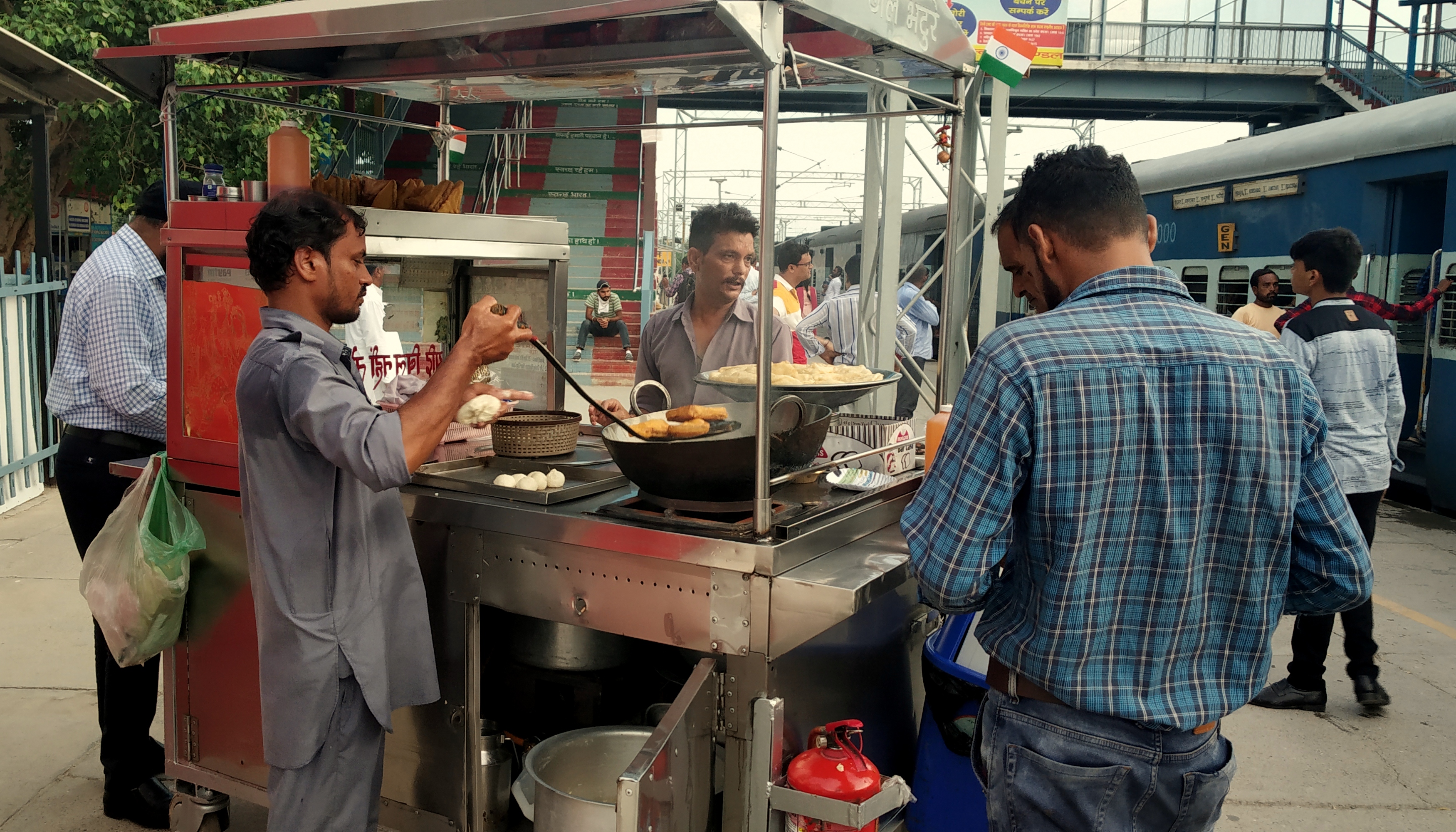 We got the starter at 6:50 PM but our loco didn't move. People were anxious and a crowd had assembled near the loco. There seemed to be some problem and a relief loco (ABR WDG3A 13231) was quickly provided and we were on way to Jodhpur. We had also ordered dinner online which was delivered to us at Bathinda Jn.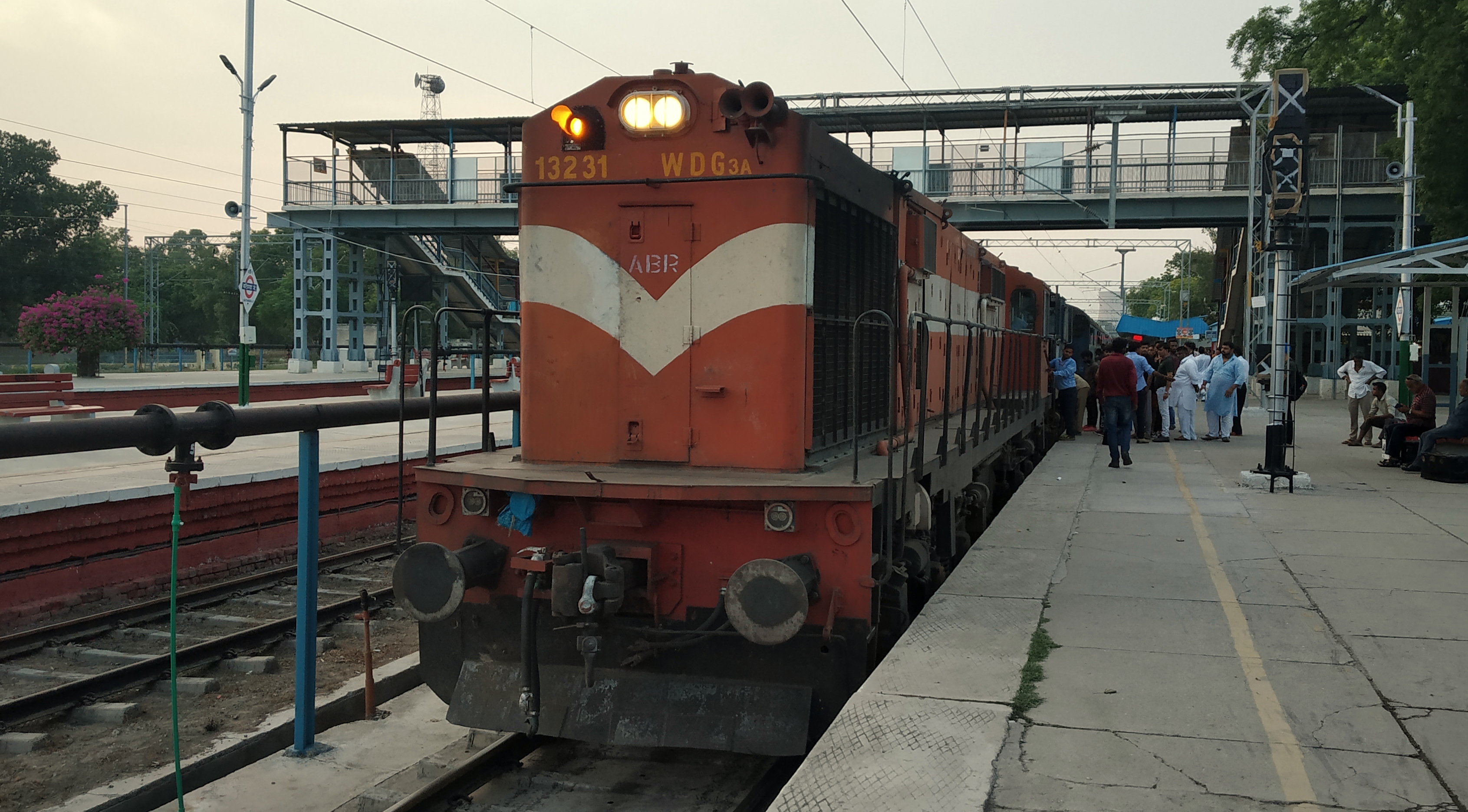 The dinner consisted of 3 rotis, alu gobi, dal, rice, and dahi which we quickly finished. Cruising through the arid areas of northern Rajasthan, we reached Hanumangarh at 8:10 PM. Being a full moon night, our coach and the station surroundings were shining brightly. After an uneventful run of 1 hour, we reached Suratgarh around 9:15 PM and left soon after. With nothing to do, I dozed off since we had an early morning arrival at Jodhpur.
Jodhpur, the Blue City (16th August 2019)
I woke up around 5 AM when we were nearing Rai-Ka-Bag palace. After a quick halt at Jodhpur outer, we were let in at 5:30 AM on PF 3. Heavy overnight rains had formed water puddles at many places. The granite floor was slippery as well and we somehow managed to exit the station without any back and hip injuries.
We then took 2 autos to our hotel located close by. The situation resembled mini-floods and our auto driver drove cautiously. Post check-in, we headed to our respective rooms. Our next train to Gandhidham was at 8:30 PM and we decided to take some rest and then visit the Mehrangarh fort and as well as do some quick shopping but a quick look at the weather forecast on Google showed heavy rains throughout the day.
With the weather not showing any signs of improvement, time was hard to pass by. Meanwhile, with Murphy's law in action, I only wondered what destiny has planned for us over the next 2 more days which I will cover in the next part of our 2019 annual rail pilgrimage series.
Comments, feedback, and suggestions are welcome 🙂