The Annual Rail Pilgrimage: Part 1: The Planning
The Annual Rail Pilgrimage: Part 2: Jet, Set, Go
The mobile alarm went off exactly at 03:45 AM and I quickly checked with GI if he was awake. After a positive reply, I finished my morning chores. We checked out of the hotel at 05:00 AM and booked an Uber to New Delhi railway station. The roads were deserted and within 15 minutes we were at platform 16 of New Delhi railway station.
Taking the foot overbridge, we came to platform 1 where our train 12002 New Delhi Habibganj Shatabdi Exp. was expected. We 3 (Chechu mama, GI, and yours truly) were taking this train till Mathura Junction where Rajeev Nair was to join us.
New Delhi railway station was as usual hustling and bustling with people arriving from/departing to all the corners of India. The prestigious Punjab Mail was on platform 3.
After a wait of 5 minutes, Ghaziabad WAP 5 30086 pulled into the platform with our train. We had booked in E1 (Executive Class) and as soon as the train came to a stop, we boarded and took our seats. Chechu mama and GI were seated together and had a track-side window seat while I took the window seat on the non-trackside of the coach.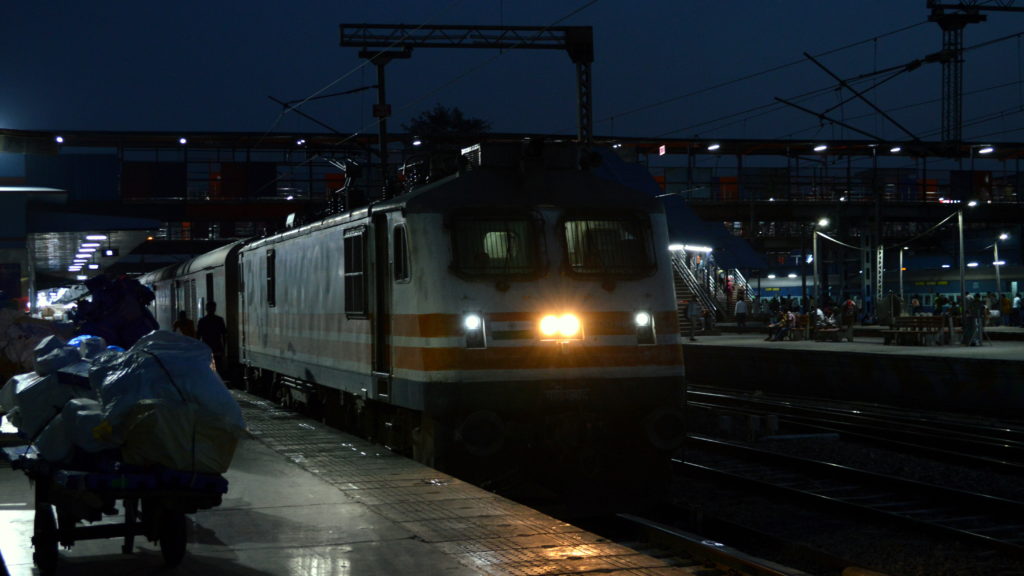 Around 06:00 AM, we got the starter to proceed but were held up for a little while as the workers were loading the last few bags in the luggage van. Once that was done, our train accelerated and we crossed Shivaji Bridge, Tilak Bridge, Pragati Maidan, and Nizamuddin, at sedate speeds.
After around 30 minutes into the journey, we were served a cold tetra pack of "Chach". I was a little surprised as after 10 minutes, we were given tea kits along with hot water and a packet of Marie biscuits. Newspapers were also distributed and I asked for a copy of the Times of India.

Quite a few trains crossed us and we also overtook the Punjab Mail somewhere en route. Chechu mama was at his usual best – doorplating and enjoying the high-speed run. GI, our riverman was busy noting down the river names and taking power naps in between. Around 07:35 PM, our train took a right turn and entered Mathura Jn. Rajeev's train, the Garib Rath Exp. from Mumbai had already arrived and he was waiting for us near Comesum on platform 1.
We then proceeded to have our breakfast. Comesum on PF 1 looked a little dirty with flies all around. In fact, there were more flies than the items on the menu. Anyway, we ordered masala dosa, channa bhatura, alu paratha and tea. Post breakfast, we proceeded to PF 7 and enquired with the station master about the MG (meter-gauge) railbus to Vrindavan.
The MG railbus shed at Mathura is located at least a kilometer away from the main Mathura Jn. railway station. The weather was hot and it was a pain to walk all the way. However, it was a sight to behold once we saw the cute and tiny little railbus. It was numbered 10009 and was scheduled to depart at 08:55 AM.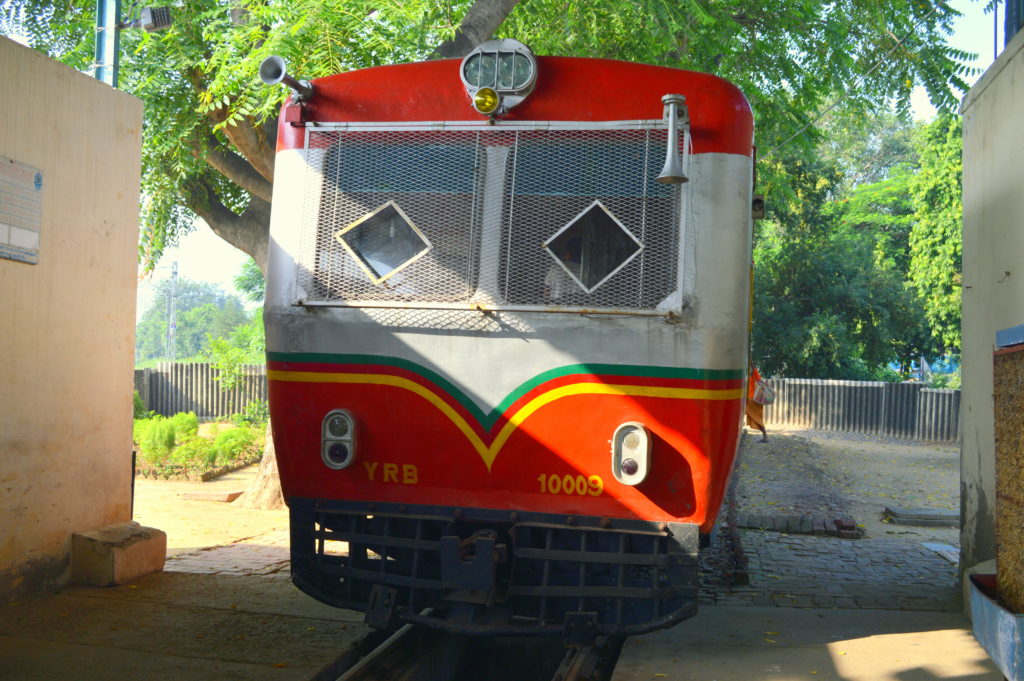 The tickets to Vrindavan were priced at Rs 10/- per person and the railbus operated 3 trips/day. We got busy in clicking the pictures when someone from the railbus shed enquired if we are from the media? When we told him that we have come all the way from Bangalore, Chennai, and Mumbai respectively just to travel in the railbus, he was surprised and gave a cheeky smile.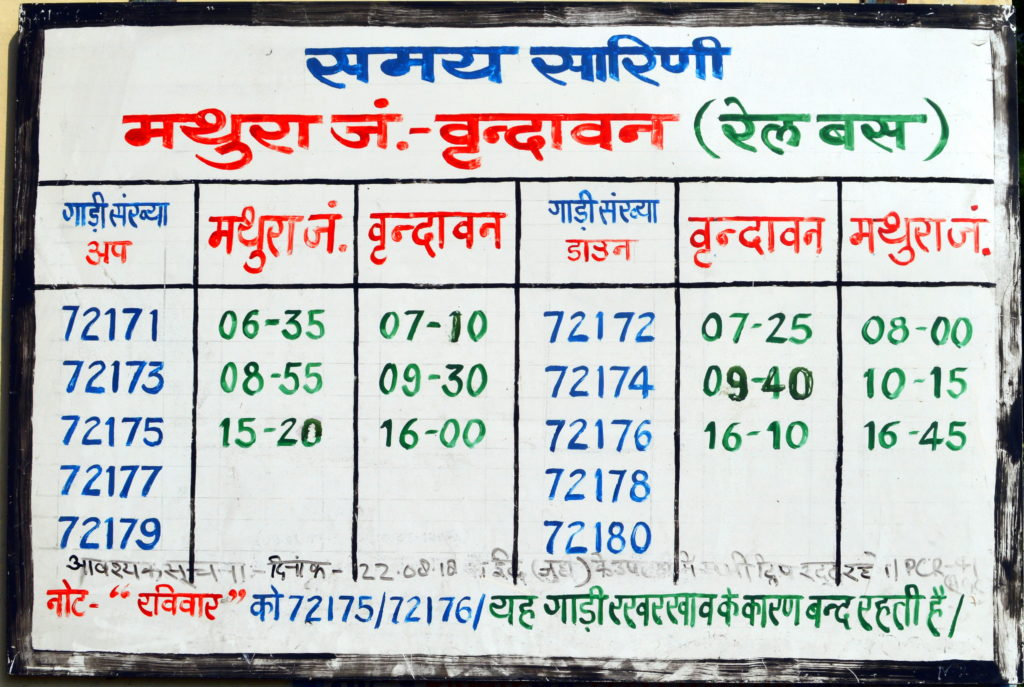 In the meantime, the railbus crew consisting of a loco/railbus pilot, gateman-cum-guard, and the conductor arrived around 08:50 AM and cranked up the engine. The railbus sprung to life and was eager to make one more trip to Vrindavan, a place famous for temples dedicated to the worship of Radha and Krishna. It is also known as the "City of Widows".
At 08:55 AM, the railbus honked and we started. It was a slow start however we picked up speed only to stop at the first level crossing. And here's what happened at the first, the second, and every level crossing we encountered along the 12-km ride.
Instead of the vehicles, there was a board for the railbus to stop at every crossing. The gateman would then climb down, close the gates as two-wheelers and auto-wallahs scamper by. Once the gates were closed, the railbus would honk and move over to the other side and stop again. The gateman would then unlock the gates and climbed up to take his seat. The railbus would give a loud honk and accelerate. Quite a unique and one of a kind experience.
At every level crossing, people would either board or de-board. We stopped at 2 stations en route – Krishna Janmasthan and Masani. Gently swaying through, we reached Vrindavan around 09.40 AM.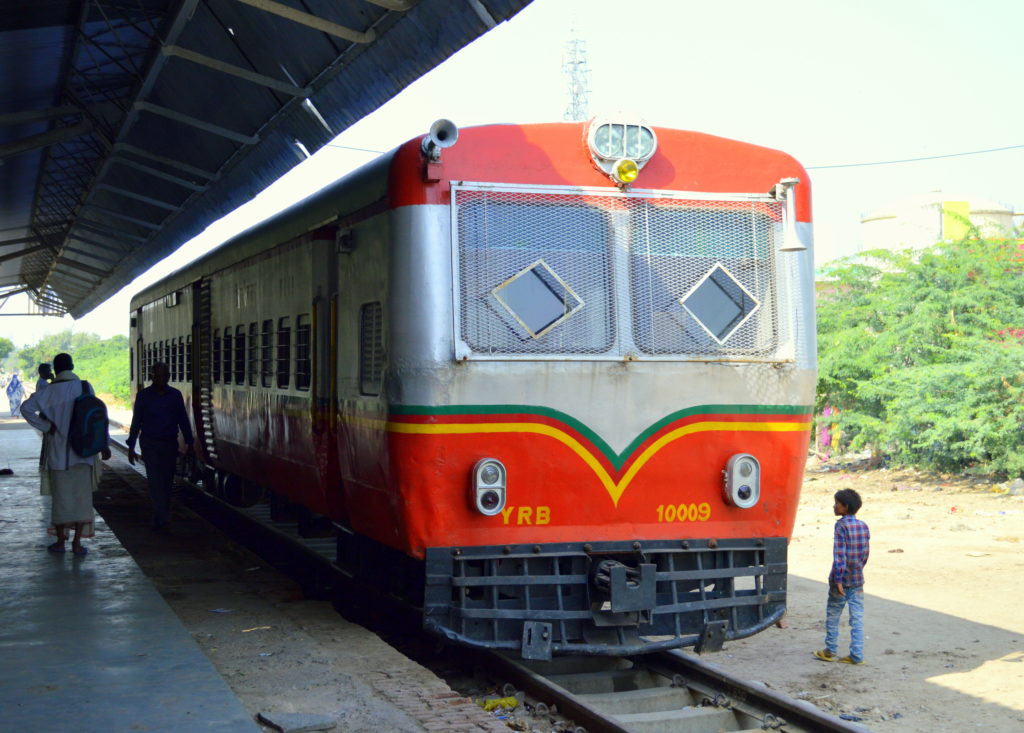 The crew quickly shifted to the other end and we departed at 09:45 AM. The same sequence of events repeated at every level crossing. I door plated for a while occasionally taking a few pics here and there. The return journey was uneventful and we reached Mathura around 10:20 AM.
We then made our way to Mathura Jn. railway station and proceeded to the AC waiting hall. Once there, we freshened up, had a few snacks, bought the mandatory "Mathura Ke Pede" from Comesum and waited for our next ride which was the 11078 Jammu Tawi – Pune Jhelum Exp. scheduled to arrive around 12:45 PM.
Our train arrived at 12:50 PM and we boarded our coach B1 while Rajeev was booked in Sleeper. The train departed at 12:55 PM and we then ordered 3 veg thalis which consisted of rotis, dal, white rice, sabzi, and a sweet. The quantity was more than enough and after sitting for a while, I folded the middle berth and went to take a quick nap.
I remember getting up before Dholpur Jn. which was our next stop. We were to proceed to Mohari Jn. from here and then catch the 52184 Srimathura – Dholpur narrow gauge passenger. We deboarded around 03:55 PM and crossed over to PF 1. The Chattisgarh Exp. bound to Amritsar was on the opposite platform and left soon after.
We then enquired with the station master if there's a cloakroom to keep the bags for a couple of hours. We also told him that we have come all the way to Dholpur just to travel in the narrow gauge passenger. He was amused at first but then allowed us to keep our bags in his cabin. Thanking him, we made our way outside the station to have a cup of tea. In the meantime, we had booked a cab which was due to arrive soon. (Thank you Trayambak Ojha for your little guidance here).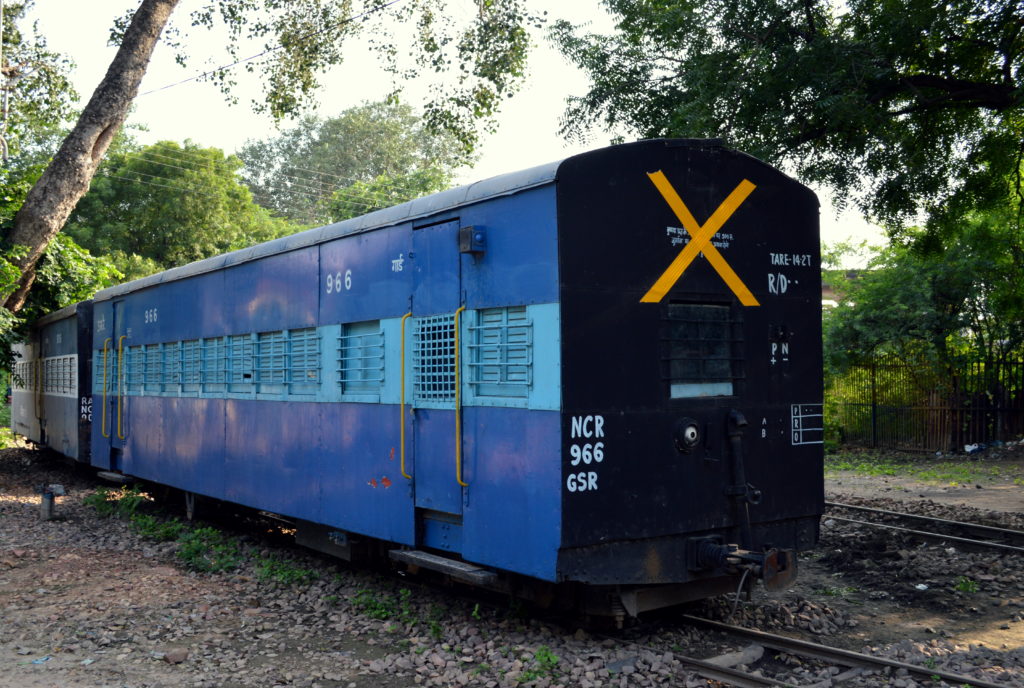 We kept waiting but the cab never showed up. It was almost an hour and time was running out. The plan to go to Mohari Jn. was dropped and we then hired an auto to take us to Bari, 31 km from Dholpur. It was 05:00 PM and the NG passenger was to depart from Bari at 06:10 PM. So we had almost an hour to reach Bari and then catch the NG train back to Dholpur.
Crossing the city limits and once on the state highway, the landscape changed to a lush green cover and small hillocks followed by a huge lake (Nibhi Ka Taal) along the highway. The auto driver also enjoyed with us and it was great to share his stories as well as share ours. A ride that we all thoroughly enjoyed.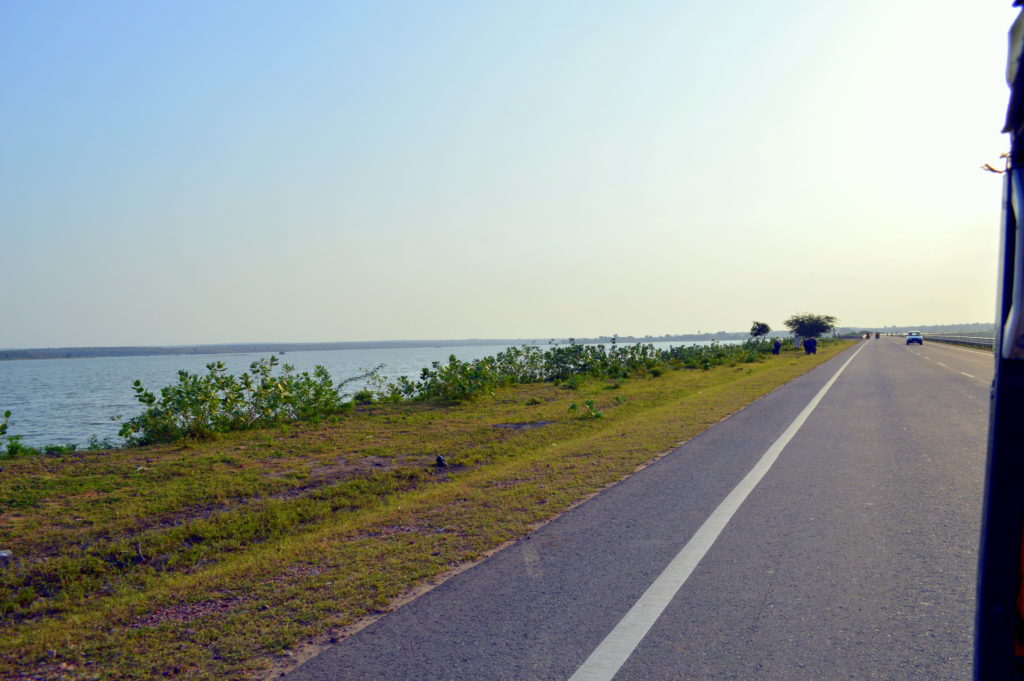 We reached Bari around 05:50 PM and after thanking the auto driver, we rushed to purchase tickets as well as click some pics. Bari railway station was crowded with people bound for Dholpur. We heard a honk around 06:05 PM and the NG passenger entered the platform hauled by a ZDM5 518. It was a 5-coach consist. We scrambled into the last coach and Chechu mama was lucky enough to find a seat.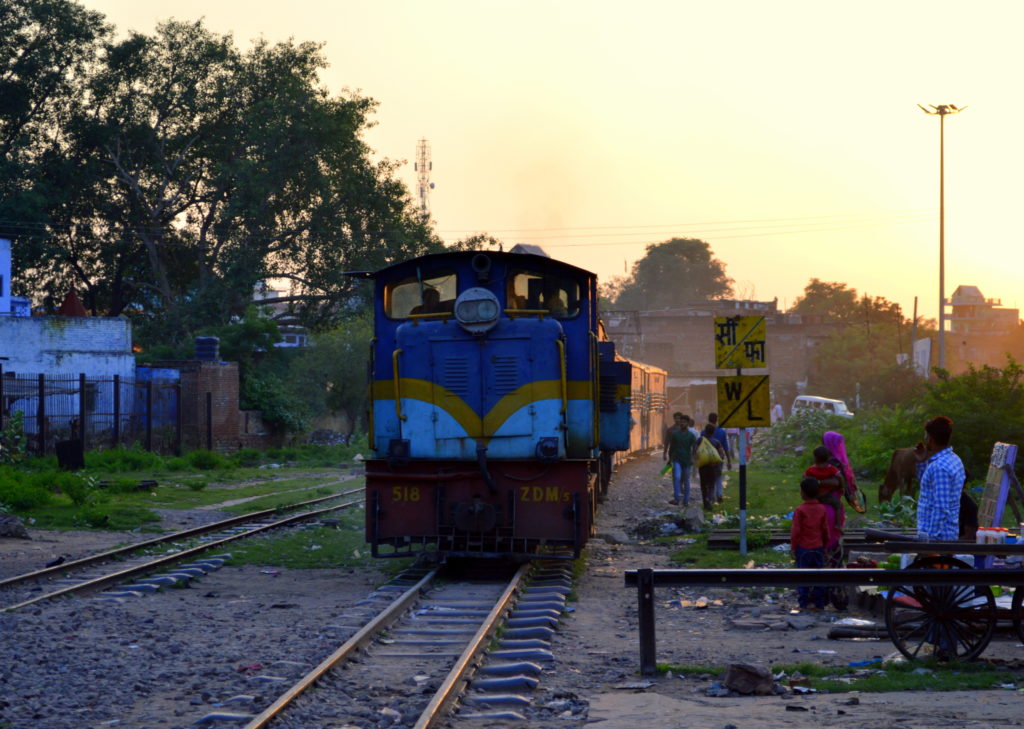 The remaining 3 of us – GI, Rajeev, and yours truly decided to stand all the way till Dholpur, a journey of roughly 1.5 hrs. The loco gave a toot around 06:20 PM and we departed from Bari. The loco pilot was a little cautious in notching up initially but once the restrictions were out of place, he unleashed all the horses. The ride was interesting and we stopped at 2-3 stations on our way to Dholpur.
ZDM5, the power of our train, was doing good speeds and constantly honking. Small lakes along the route were full of water. Darkness fell soon after and it was after ages I was having an unhindered view of the night sky. I stuck up a conversation with a co-passenger and it was great to know that he was headed to Bangalore as well for work purposes.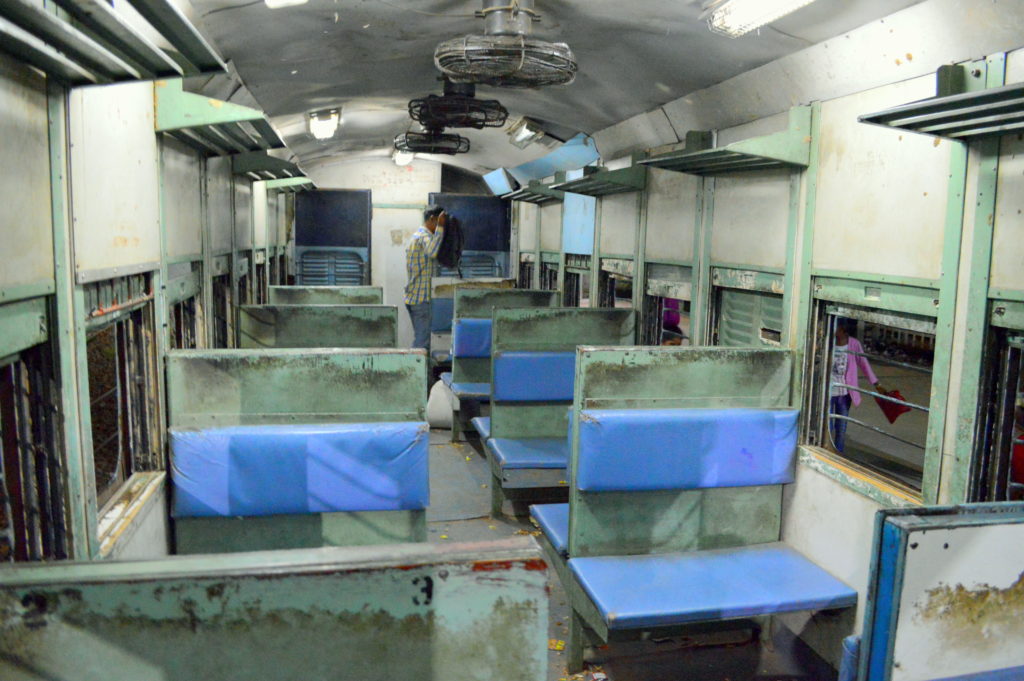 Gently swaying and rocking, we reached Dholpur around 07:35 PM. After a customary selfie, we crossed over to the BG (broad gauge) platform and waited for our last ride of the day – the 12190 Mahakaushal Exp. to Gwalior. Our train was expected at 08:30 PM and in the meantime, we had some yummy snacks prepared by GI's wife.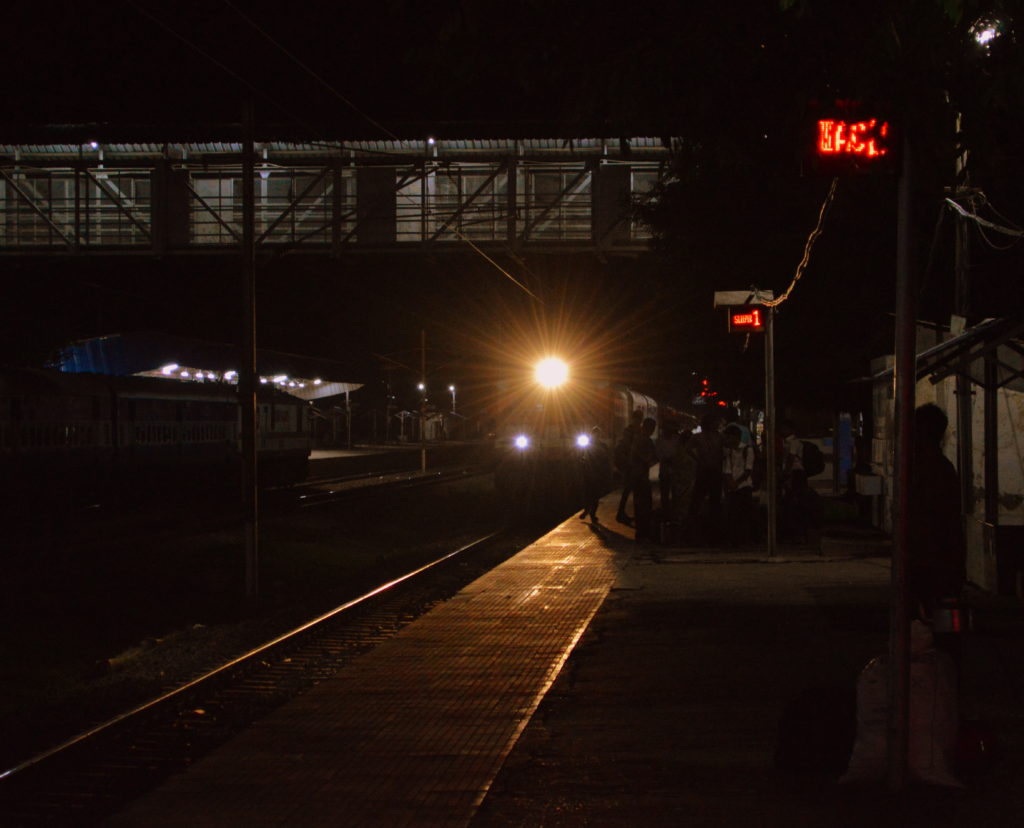 Our train arrived right time and we boarded our coach B3. While GI enjoyed his power nap, Chechu mama and I conversed on a lot of topics ranging from his posting in Sikkim to his China trips and what not. Our co-passengers – 2 ladies occupying lower berths were surprised by the fact that we were traveling from Dholpur to Gwalior, a distance of just an hour in a 3A coach.
We reached Gwalior around 09:30 PM and boarded the vehicle arranged by the hotel. A quick dinner and a cup of tea followed. I watched TV for a while and then slept.
The next day was again going to be a hectic day as we had to cover the Gwalior – Motijheel NG section followed by a Gatimaan ride to Delhi followed by a red-eye flight to Bangalore.
To sum up, it was a great day. We got to enjoy the best (fastest and slowest) of the rides and meet some wonderful people along the way. It was that kind of a day wherein you go to sleep with a sense of accomplishment and satisfaction. Wonder, what the next day holds for us?
Stay tuned for the last and final part…