The Annual Rail Pilgrimage: Part 1: The Planning
The Annual Rail Pilgrimage: Part 2: Jet, Set, Go
The Annual Rail Pilgrimage: Part 3: A Ride Back in Time
After a good night sleep, we all woke up fully refreshed the next day. Finished our morning chores and all of us sat down to have breakfast which was complimentary. We ordered each and every item from the limited breakfast menu.
Tummies full, we then got ready and proceeded to go to Gwalior railway station to catch our train to Motijheel. Reached around 09:10 AM and took the FOB to reach the narrow gauge platform 5 where our train 52175 Gwalior – Sabalgarh passenger was already stabled. It was a 7-coach consist with a Gwalior-based NDM 809 doing the honors. While I got busy clicking the pics, GI (Ganesh Iyer) went to purchase tickets for all us. Chechu mama was talking with the loco pilot. Rajeev Nair didn't accompany us for this trip.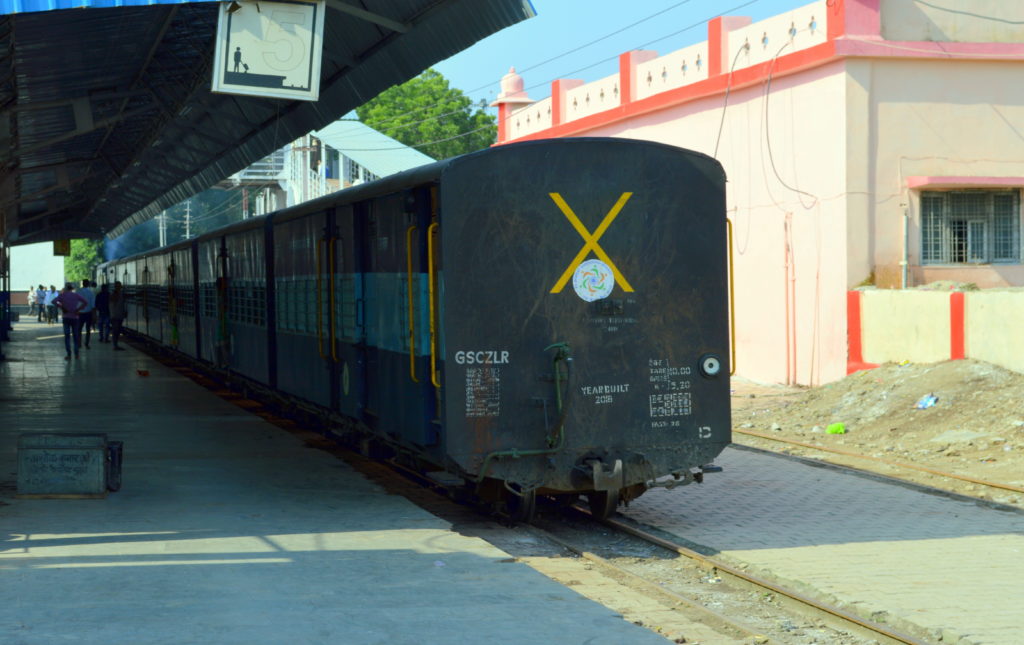 Once GI came back, we went and boarded the last coach just next to the guard's cabin. There was no one in the coach and we had all the 26 seats for ourselves. At sharp 09:30 AM, the loco let our a loud honk and accelerated. We took a sharp right turn with the loco huffing and puffing with all its might. The scene was similar to a snake slithering around trees and houses.
We passed through narrow lanes with the houses within touching distance. The Gwalior fort also gave us company for a long time. Although there are talks to convert this narrow gauge section to broad gauge, it's going to be extremely difficult for the railways.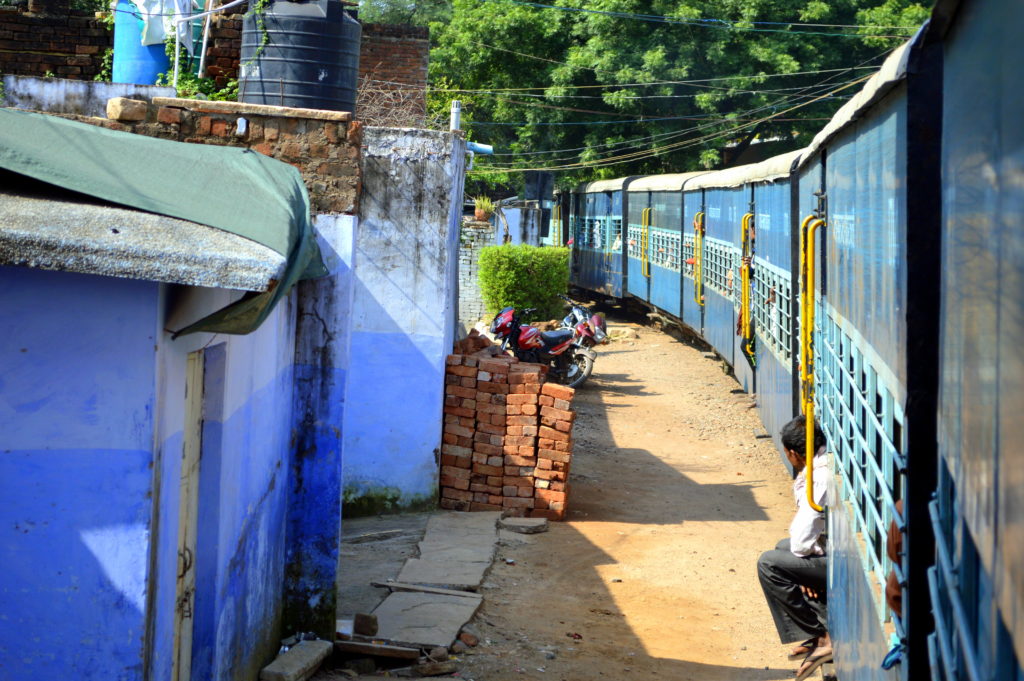 People in the houses were busy with their daily chores, chit-chatting, watching tv, reading newspapers etc. They were least bothered to see a train passing through their front/backyards. After traveling for a while, we again took a sharp right turn cutting across the road. At some of the places, the loco pilot had to stop, whistle, and then move forward (with caution). Amidst all this action, we reached Ghosipura, the first stop where quite a few people boarded our coach.
After a stop of 2-3 minutes, we again set off passing through some more residential areas. After a while, the residential areas gave way to a highway (or the main road) wherein the road and railway tracks almost run parallel. The loco pilot was honking continuously as in most of the places, vehicles were parked too close to the railway tracks. On a curve, I also noticed a few people sitting on the roof.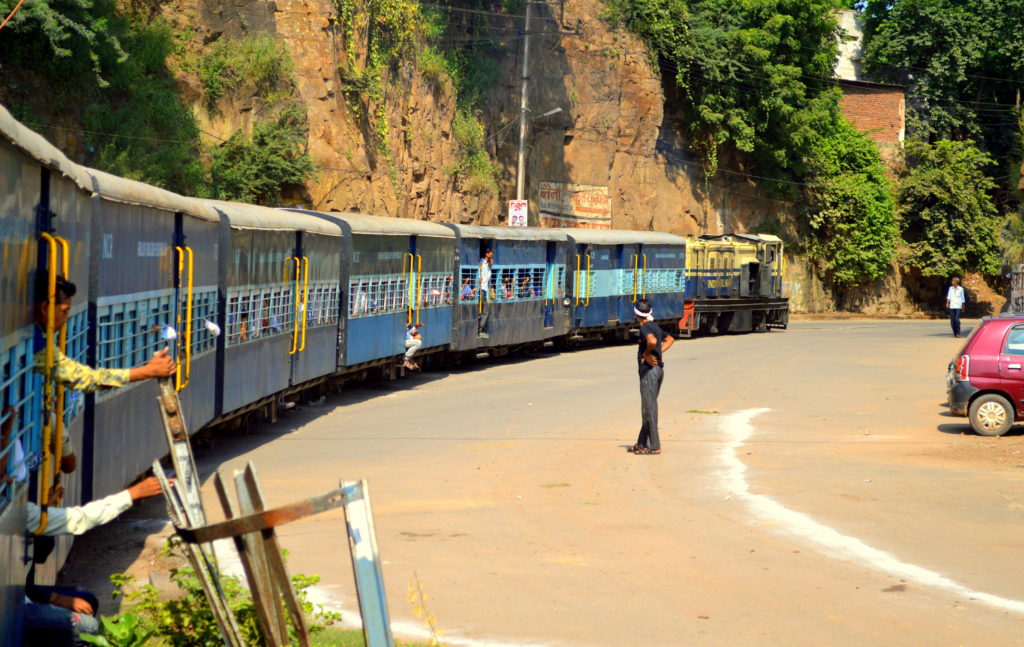 We reached our stop Motijheel around 10:20 AM and deboarded. All the coaches were brimming with people. Quite a few passengers also climbed up to enjoy an unhindered view from the coach rooftop. From there, we took a shared auto till Nehru Pump and from there, an OLA till our hotel near Gwalior railway station.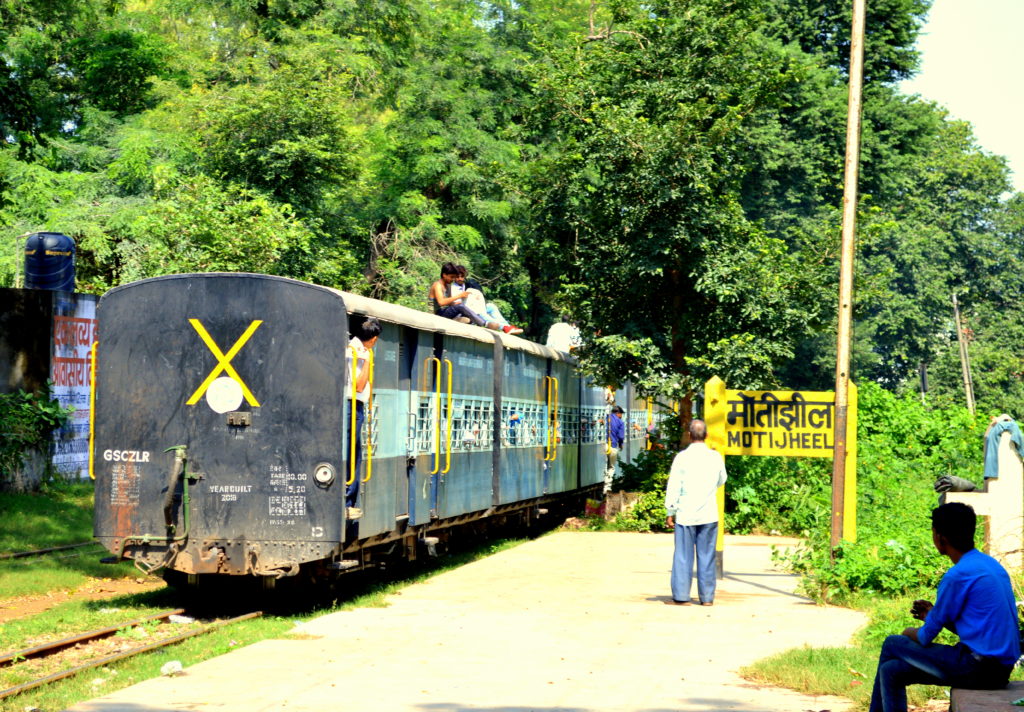 Once at the hotel, we all relaxed for a couple of hours. Our next train, 12049 Gatimaan Exp. was at 04:05 PM. Rajeev left around 01:20 PM to catch his train – Mangala Exp. to Kalyan. In the meantime, we finished our lunch and I took a quick power nap. We checked out from the hotel at 03:30 PM and reached Gwalior railway station within 15 minutes.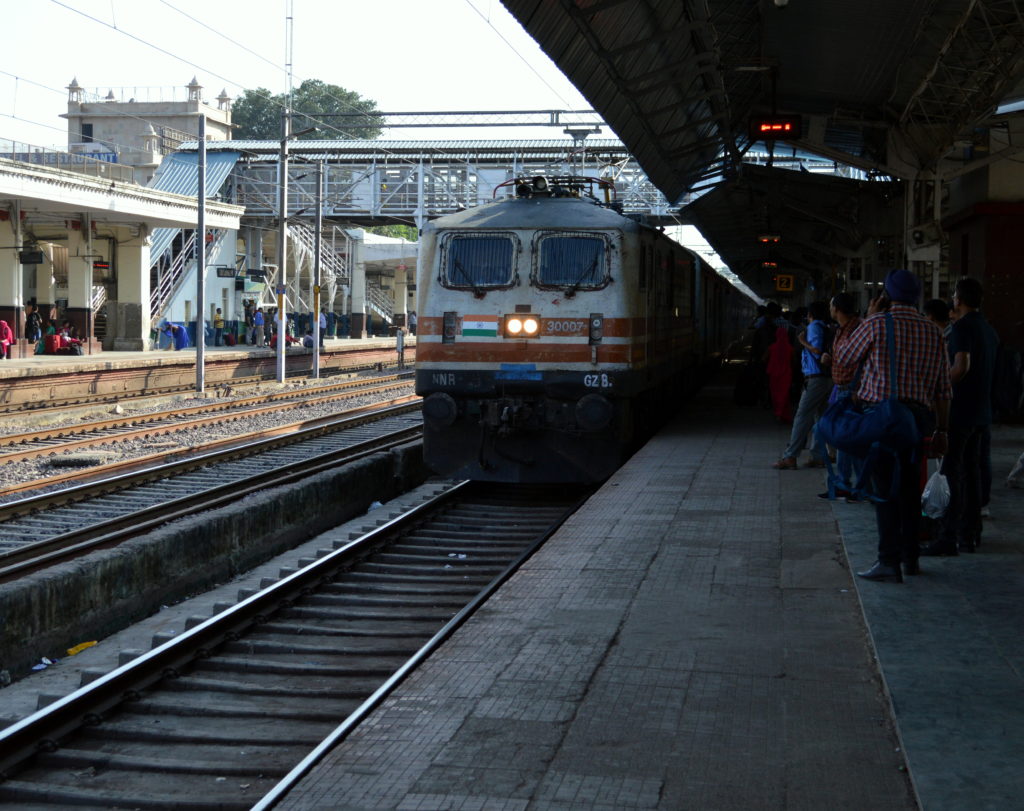 The fastest train in India, Gatimaan Exp. was expected on platform 2 and it arrived around 04:15 PM. We quickly boarded our coach E2 and took our seats. Chechu mama and GI were again together and had a trackside view while I sat on the opposite side. Luckily, our seats were facing the direction of travel. After a stop of 5 minutes, we started and it was a sedate run till Agra Cantt.
Although we were traveling in the fastest train of India, the run was more or less sedate with occasional acceleration and slowing down. We reached Agra Cantt. around 05:38 and departed soon after. The coach filled up with a majority of the crowd being tourists bound for Delhi. Post Raja Ki Mandi, the loco pilot let loose and were galloping at more than 150+ kmph.
However, we had a cattle runover incident at Baad due to which we lost almost 20 minutes. Once everything was sorted, we got the green signal to proceed further. The speed hovered around the 130-150 mark occasionally crossing 160 kmph.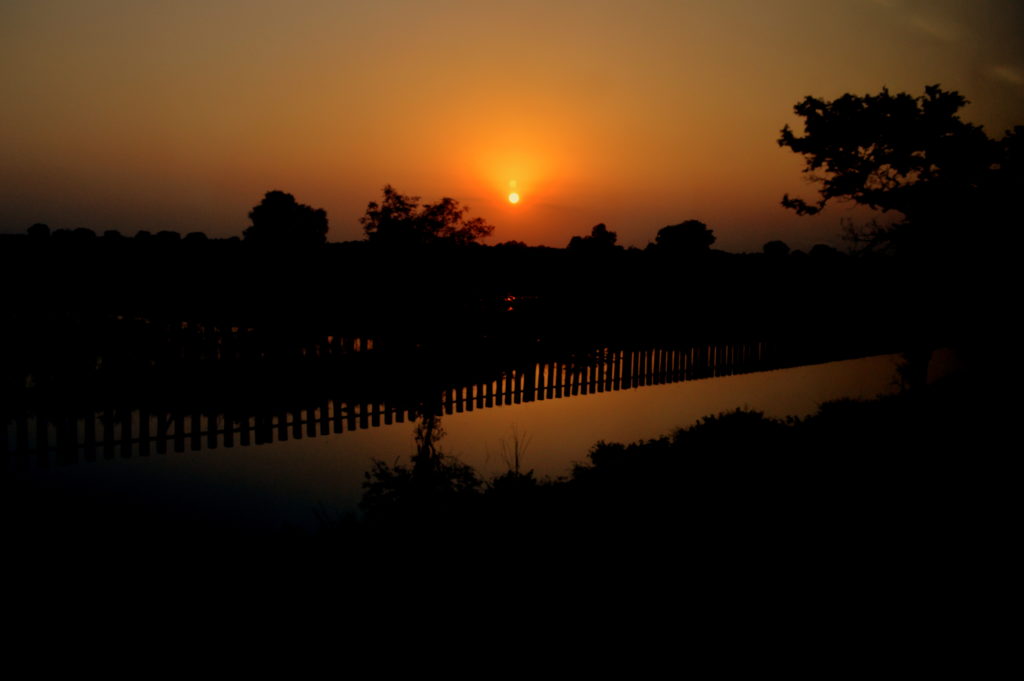 Snacks were also served post Agra Cantt., and consisted of a sandwich, barfi, chicken roll, packet of almonds, and a tea kit with hot water. We never stopped after that cattle runover incident and flew by most of the stations. At 07:45 PM, we reached Hazrat Nizamuddin which was the last and final frontier of our Gatimaan Exp. journey.
We deboarded, took a mandatory selfie, and proceeded to book an Uber to go to Indira Gandhi International Airport T2. Traffic was at its worst and it took us a long time to reach DEL T2. Chechu mama got down at Dhaula Kuan metro station and took the airport metro back to New Delhi railway station. He was to take Tamil Nadu Exp. back to his base – Chennai.
Once at DEL T2, we proceeded to the check-in counters to drop our bags and then went to have dinner at the Plaza Premium lounge. The options were limited and I opted for a chicken tikka sandwich while GI opted for a veg biryani. Post dinner, we boarded our aircraft, VT – ITC and occupied our seats.
I slept through most of the journey and woke up just before landing at Bangalore at 01:30 AM. Collected our bags and took the airport taxi to head back home with some wonderful memories of an amazing trip.
To sum it up, the Annual Rail Pilgrimage 2018 was one hell of a ride covering almost 5 states, traveling on the fastest as well as some of the slowest trains, and meeting some wonderful people along the way. Thank you Chechu mama, GI, and Rajeev for making this possible. Wonder what surprises God has in store for us for 2019?
I would also like to thank each and everyone for taking their valuable time out and reading the 4 long parts of our trip. Have a wonderful New Year 🙂