To read Part 1 of the Annual Rail Pilgrimage, click here.
12th Sep 2018
With less than 24 hours to go for the trip, it was time to pack up things and finish everything beforehand to avoid any last minute hassle. All done, I lied down to catch some sleep. Meanwhile, Chechu mama had already commenced his trip from Chennai and his train was somewhere in Central India. Rajeev was to start his trip around 04:30 PM on 13th to reach Mathura the next day morning at 07:25 AM.
13th Sep 2018
Our Indigo flight 2988 from Bangalore to Delhi was to depart at 04:55 PM. Web check-in was already done months back and I reached Bangalore International Airport by 03:30 PM. GI (Ganesh Iyer) had already reached and after dropping our bags and passing the security check, we proceeded to the Plaza Premium lounge for some hi-tea and snacks. The Plaza Premium lounge at KIAL gives a good view of the apron and the runway area and we spotted quite a few A320s and the new B737 Max from Jet Airways.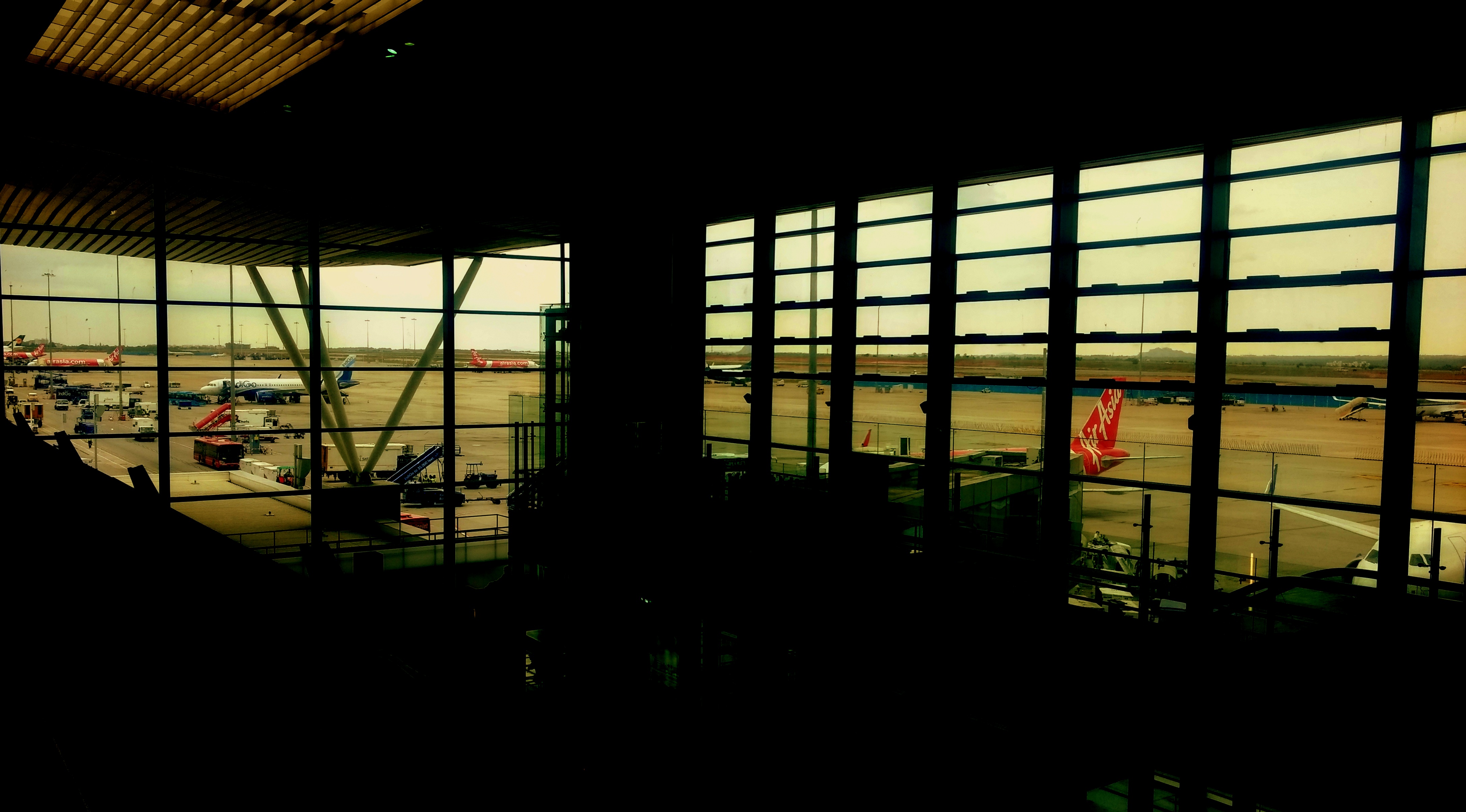 Boarding was done and the flight to Delhi was uneventful and boring. Upon landing at Delhi T2 around 07:30 PM, we proceeded to catch the Delhi Airport Express to New Delhi railway station from terminal T3. It was a long walk and the climate in Delhi was humid and sweaty. We took the tokens (priced at Rs 60/- each) from T3 and then proceeded to the underground concourse. A long walk again and we were at the platform waiting for our metro ride to New Delhi railway station.
After a wait of around 5-7 mins, the Airport Express Metro from Dwarka Sec. 21 arrived and we quickly took our seats which were in a 2×2 configuration. There were luggage racks to keep the luggage. at the entrance of the coaches. The acceleration was quick and fast and we passed Aerocity, Dhaula Kuan, Shivaji stadium stations before arriving at New Delhi metro station around 08:20 PM.
A long walk again, we came outside the metro station only to see the auto-wallahs pouncing upon us. They were already on a surge pricing mode and we thought to book either an OLA or an Uber to our hotel in Paharganj. Surprisingly, the fares were at least 50% lesser than what was being quoted by the auto-wallahs.
The OLA ride took 20-25 minutes and dropped us at the hotel after passing through some of the narrowest lanes I have seen. Check-in was done and we quickly ordered dinner which was passable and went to our respective rooms.
Chechu mama joined us around 11 PM and we all went to sleep soon after. But sleep was hard to come by especially when the mind is filled with the excitement of 3 back to back rides planned on 3 different gauges the next morning.
Stay tuned for the next part…