Click here to read part 1 of our journey from Bangalore – Marwar via Delhi Cantt or to read about our adventures onboard Marwar – Mavli meter gauge passenger, please click here.
After enjoying to our heart's content onboard Marwar – Mavli meter gauge passenger and then having a cool gush of wind striking our faces as we neared Udaipur, it was time to head back to Delhi and then onward to Bangalore.
After having a quick power nap, Ganesh, Rajeev and I quickly changed, had a customary cup of tea each, took an auto and were standing outside Udaipur railway station with around 30 mins to go for the departure of our train 12982 Udaipur – Delhi Sarai Rohilla Chetak Exp. This train is named after the famous horse of Maharana Pratap Singh, the emperor of Mewar.
Our train was to depart from PF 1 and after placing our luggage in the A 1 coach, as a tradition, we were off to see the loco hauling our train and were not disappointed. It was a Abu Road WDM 3A numbered 18657 doing the honours with its customary white band. Clicking a few pics of the loco, we were off to our coach to find a family of 4 occupying our berths.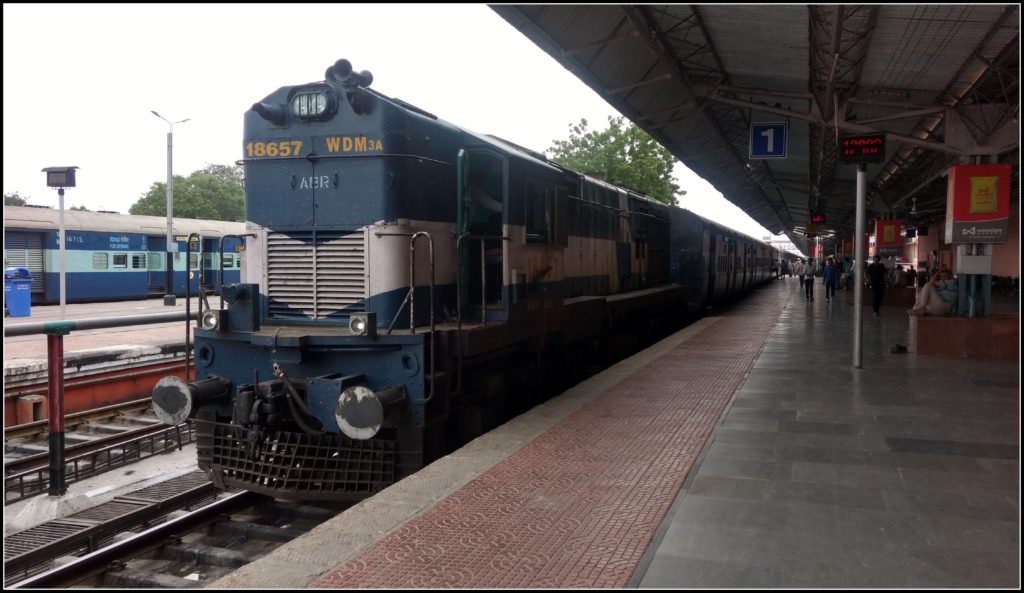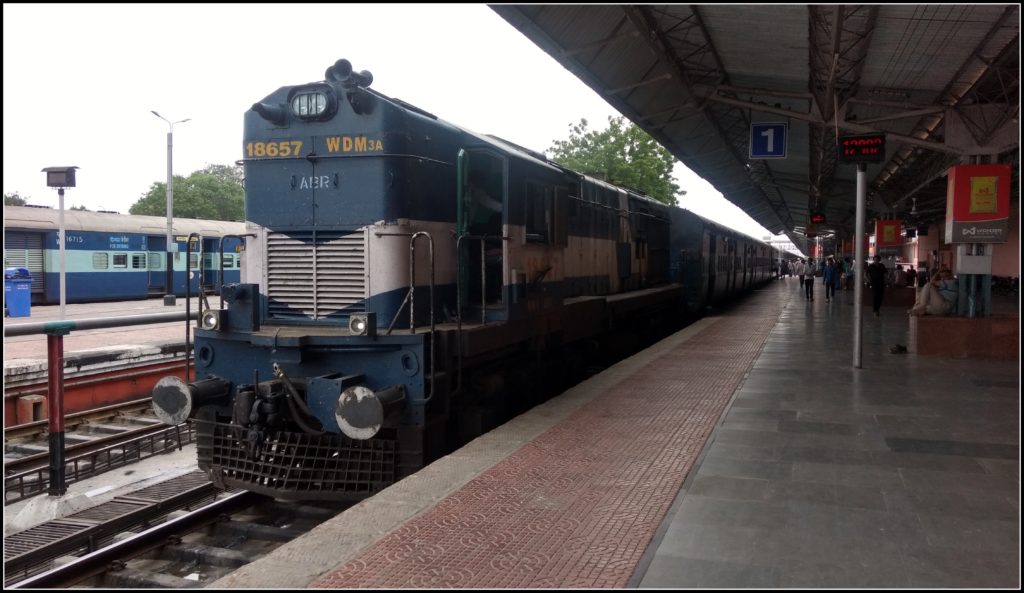 As usual, the request was to shift to other berths so that the family can be together but we politely declined their request. Grumbling and cursing their fate, the family went about their business while we enjoyed the fun and the lower berths.
At exactly 17:15 hrs, the Alco honked and started its 675-km journey to the national capital while we went about discussing various aspects of railways. We crossed the same tunnel that I elaborately discussed in part 2 but this time something was amiss. It was not the same feeling that we experienced earlier in the day probably because we were in 2A and also the train was running a bit slower.
An hour later, we were again at Mavli Jn. (the same place where our meter gauge ride ended). This time, the wait was a long one as we waited for 19329/Veer Bhumi Indore – Udaipur Chittaurgarh Express. The train arrived, albeit delayed by 10 mins hauled by RTM WDM 3D 11526 in lead.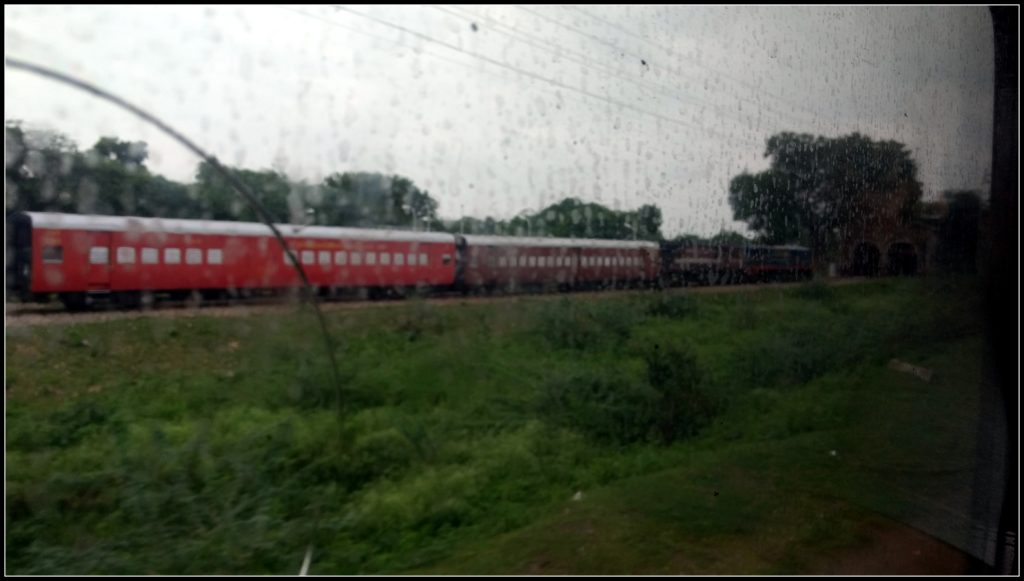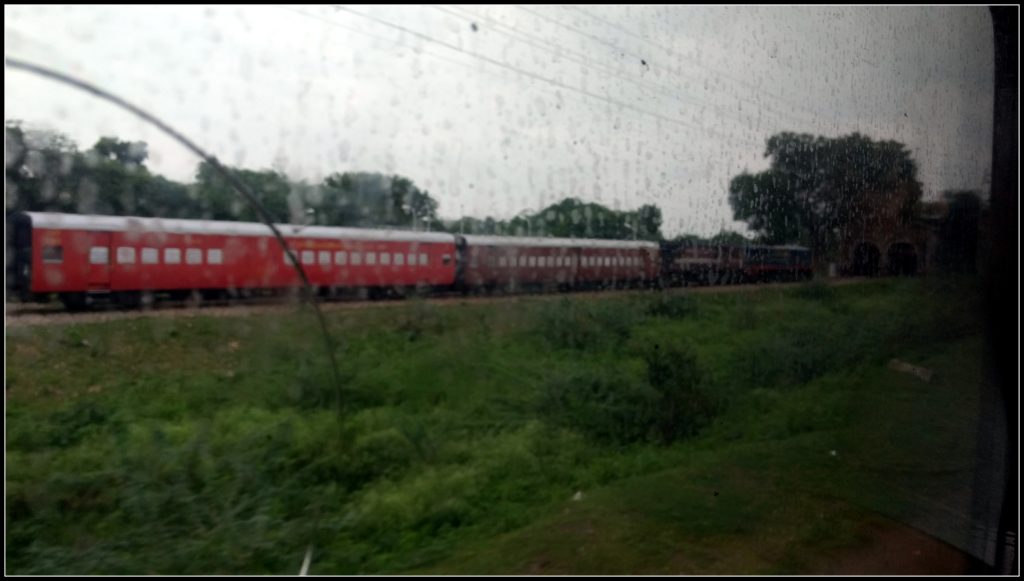 Crossing done and dusted, we were off to Chittaurgarh, our next halt and also a reversal station for our train. Chittaurgarh was a former capital of the Sisodia Rajput Dynasty of Mewar. The city of Chittaurgarh is located on the banks of river Gambhiri and Berach and is also home to the Chittor fort, the largest fort in India and Asia.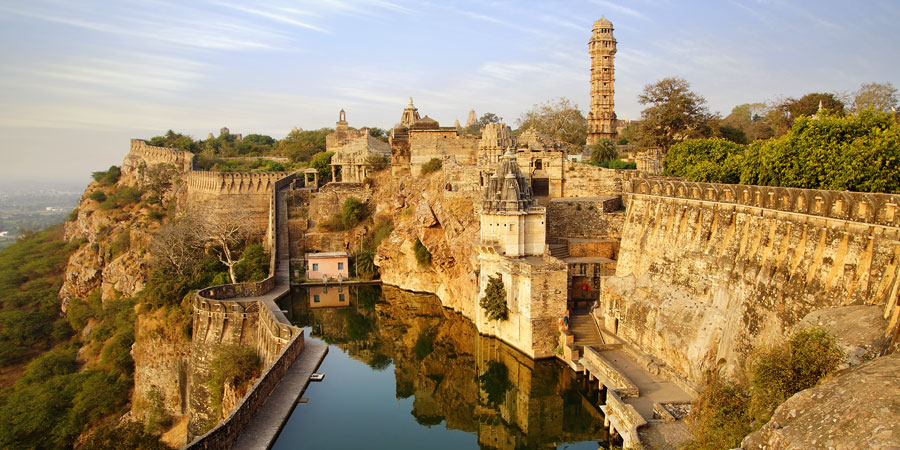 Our loco reversed and attached itself to the other end. We had booked our dinner through IRCTC e-catering and it arrived at Chittaurgarh. The dinner consisted of rice, dal, rotis, paneer sabzi, chole and rasgolla and it was totally value for money.
As darkness fell, there was nothing much to do and observe. The train was running at a sedate speed and we called it a day around 22:00 hrs. We again had to wake up early as our halt – Delhi Cantt. was supposed to arrive at an unearthly 04:34 hrs.
We woke up around 4 o' çlock and changed and were ready to deboard. But as usual, destiny had some other plans and we were running late by 30 mins. Around 04:30 hrs, we crossed Gurugram. We maintained the delay and arrived Delhi Cantt. at 05:00 hrs. Quickly booked an Uber and headed straight to the swanky T3 of Indira Gandhi International Airport.
Our flight (Vistara UK 811) was on time and we finished with the check-in and security. T3 is one huge terminal and you just walk, walk and walk. There seems to be no end and it looked like our gates were located at the far end of the terminal.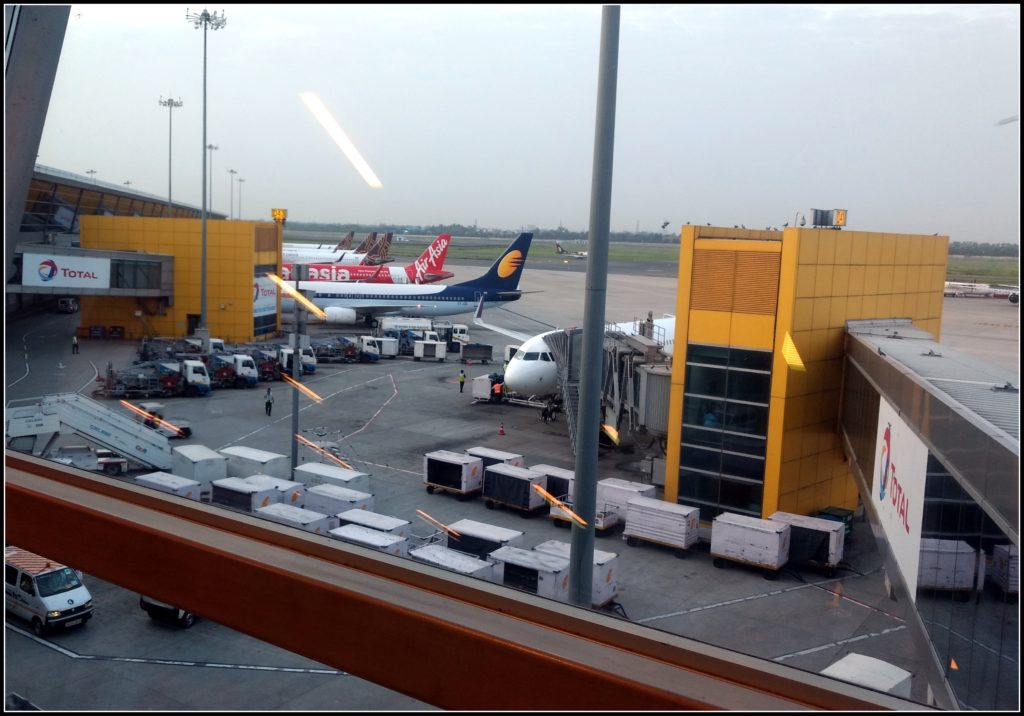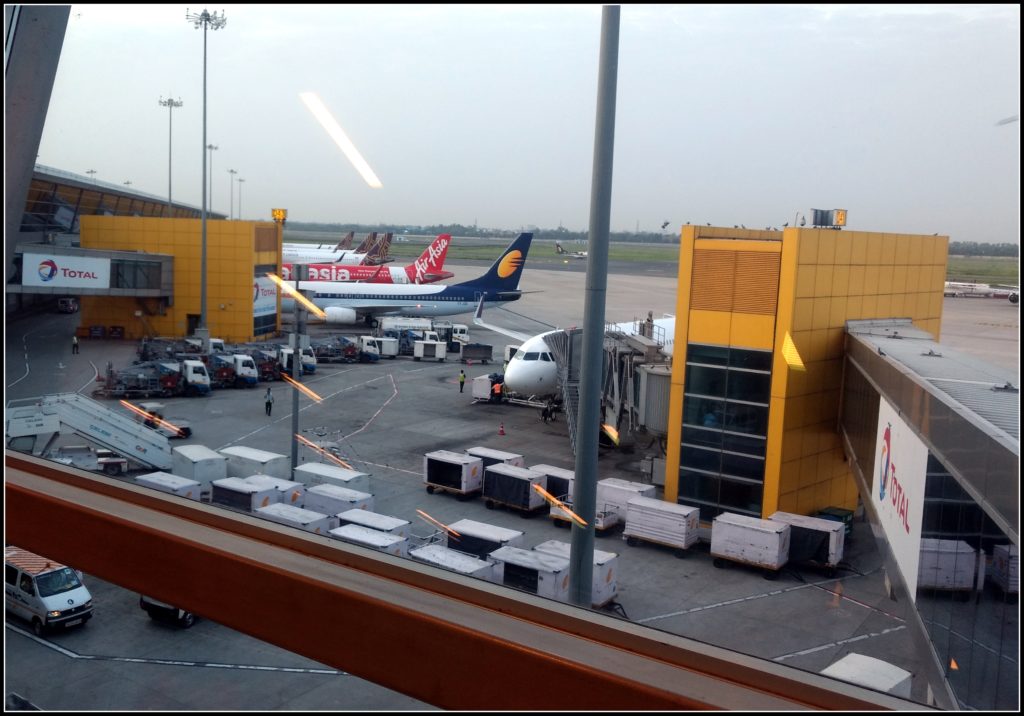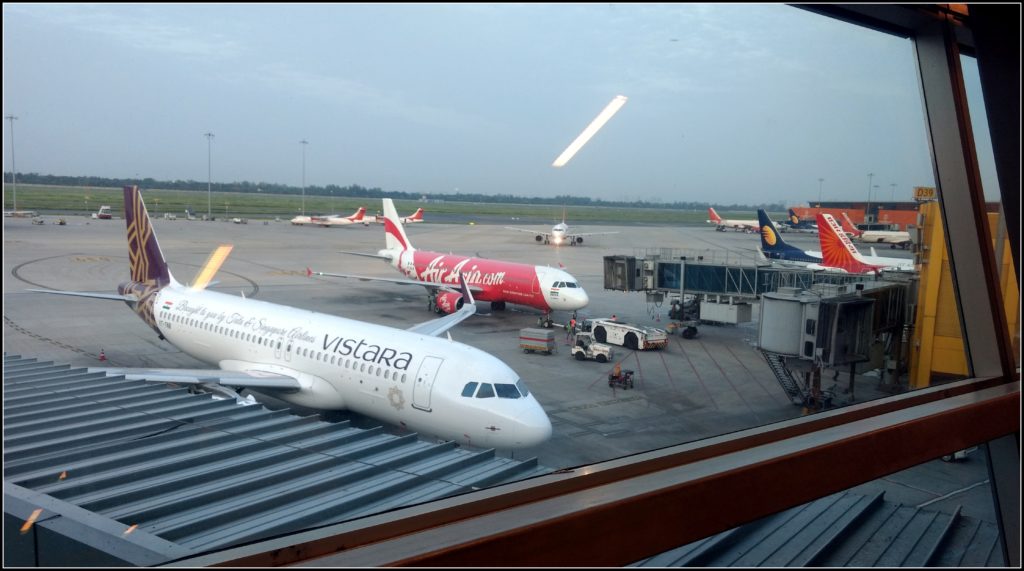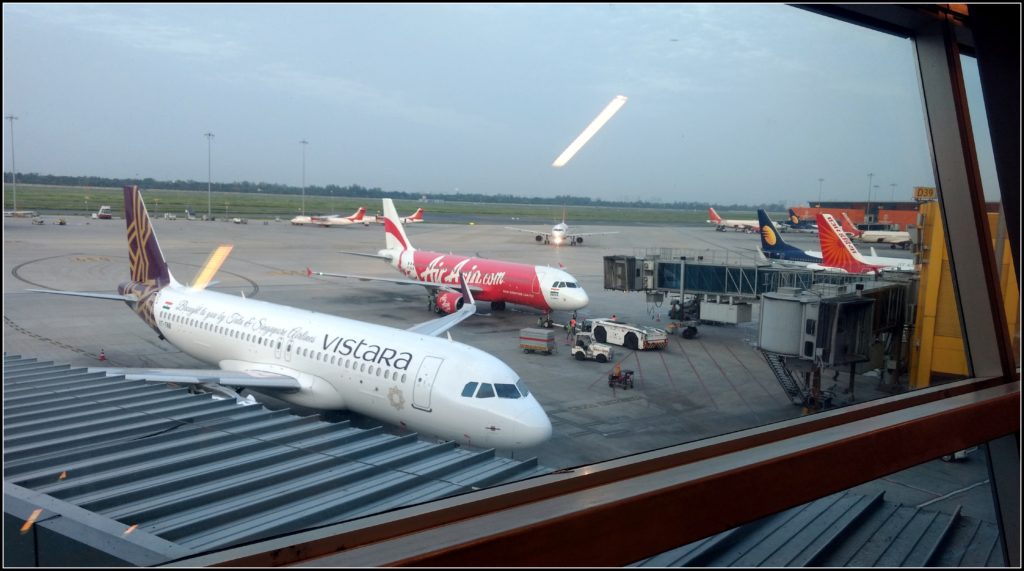 Our flight took off around 06:50 hrs and the take-off was uneventful. I had ordered non-veg breakfast which consisted of scrambled eggs, mango yogurt, potato wedges and bun with a packet of butter. Tea/coffee was served later.
The flight was nothing much to write about and I slept for the most part of the journey. We landed 10 mins ahead of the scheduled time and while I went to the baggage claim area to collect my luggage, Ganesh headed to the Uber zone.
Post collecting my luggage, I too booked an Uber and headed home to end a fantastic yet eventful trip to Rajasthan.
To sum up, well, I am short of words. It was one of the best rail trips I have ever had. Right from the inception till the very end, I could feel the adrenaline rush inside me. The meter gauge ride was again out of the world though I am going to miss it for days and years to come. Thank you, Ganesh and Rajeev. You were an awesome company.
With this, I would like to end this last and final part of the 3M Magic series. Hope you have enjoyed the trip along with me. Look forward to your feedback and suggestions 🙂