This trip report is an account of my journey onboard 02698/06590 Chhatrapati Shivaji Terminus Mumbai – Yeshwantpur One Trip Special undertaken in April 2014.
Ever since the Rajdhani's, the Shatabdi's and other premier trains crisscrossing the country were LHBised, I had a long pending dream – To travel in these swanky looking coaches just once be it SL, 3A or 2A. Little did I knew that I will be given a thunderous welcome by the rain Gods and my dream will be fulfilled by the almighty in such a special manner?
Tuesday, 29th April – I was happily working in my office when a phone call from my wife left me shocked and worried. A couple of relatives from my in-laws' side met with a serious accident between Dharwad-Belgaum. The outcome of this accident is too grievous in nature and hence I won't talk about this in depth but focus on the rail journey.
This meant me, my wife and my parents had to rush to Dharwad as early as possible. I checked all possible train connections between Bangalore and Dharwad and also between Bangalore and Hubli but I was greeted with long waiting lists. Time was running out and hence we decided to travel by KSRTC which had quite a few empty sleeper berths. Tickets were quickly booked for the Bangalore – Dharwad leg and I then sat down to book return journey tickets.
Rani Chenamma, as well as VSG-SBC Link Exp, were waitlisted. Yeshwantpur Sampark Kranti Express didn't allow booking tickets between Belgaum/Hubli and Bangalore. Pondering over different search queries, I immediately remembered about the 02698/06590 CSTM YPR SPL which was announced a few weeks back by SWR. It was to depart from CSTM on Wednesday morning at 05:00 and reach Dharwad at 19:15 and eventually reach YPR at 04:30 on Thursday.
Being a special train, I had various doubts in my mind like – dirty coaches with no water, low priority, being late by 3-4 hrs etc. But I didn't know all these misconceptions of mine will be cleared after this trip. I checked for availability between Dharwad and Bangalore and the screen showed RAC in general and tatkal quota.
Not wanting to take any chance, I then checked for availability between Pune and Bangalore and the screen showed SL – Available 89 under tatkal quota. I immediately made the booking with boarding point as Dharwad and we got seat nos 9, 10, 12 and 13 ie 2 LB's and 2 MB's. All done, we packed our luggage and left for Kempegowda Bus Terminal to catch our bus to Dharwad.
Wednesday, 30th April (Dharwad) – The day went off peacefully but I had a harrowing time tracking this train from Mumbai. Initial thoughts were what if this train is canceled due to low patronage or something. Whenever I entered 06590 in NTES, it gave an invalid number error. Tried calling 139 but somehow I was not able to get connected. Even the Indian Rail app on my phone was not of any help and amidst all this melee, the internet connectivity also went off. I was a bit anxious as I didn't want to do another bus journey.
But thanks to the almighty, connectivity was back after 15-20 mins and I opened the Indian Rail app to try one more time. I thought to first check the schedule and entered 06590 but no avail. I then entered "CSTM YPR SPL" and lo and behold, the schedule was in front of eyes. The problem was though the train number was revised, it seems people in CR/SWR were too lazy to update it. The train number still showed 02698. I then proceeded to NTES to track the running status with number 02698 and it showed a delay of 56 mins. All this done and things packed, we reached Dharwad around 18:00 hrs with still an hour for the train to arrive. Dharwad station wore a deserted and laid back sort of a look with a very few people outside the station vicinity.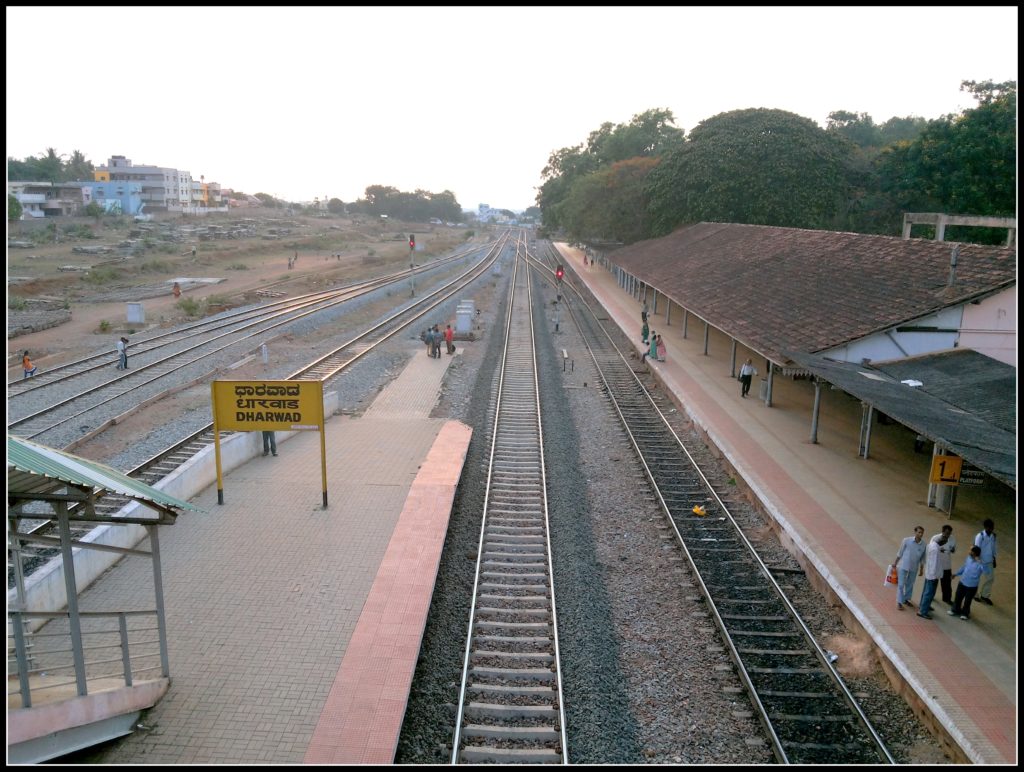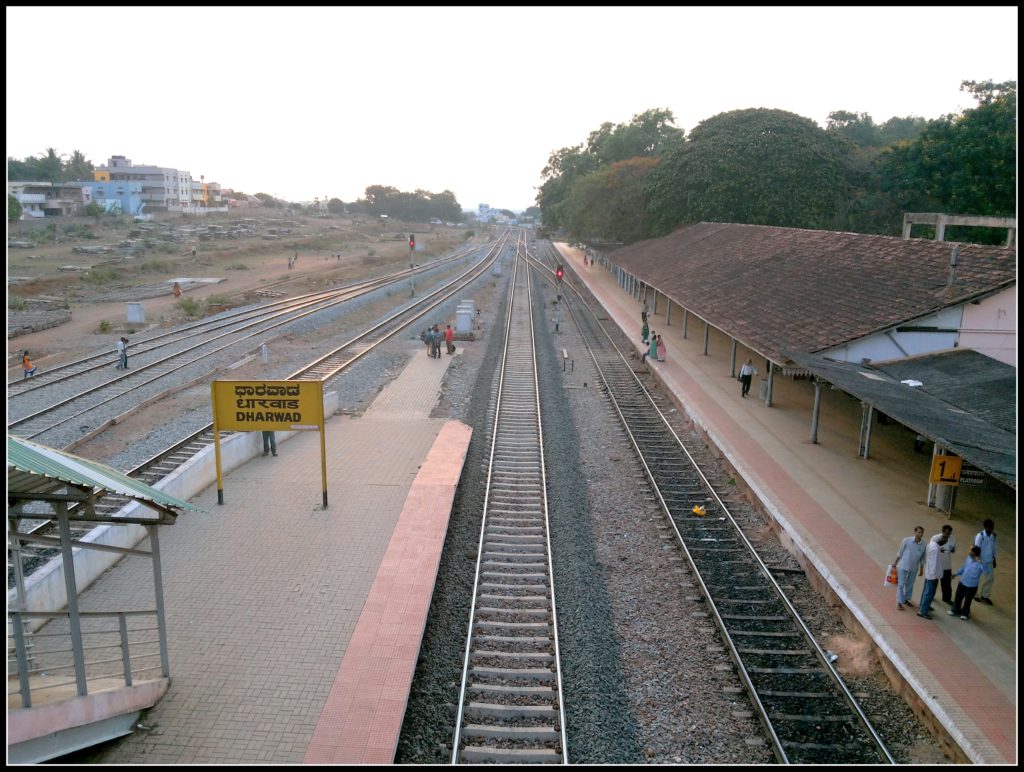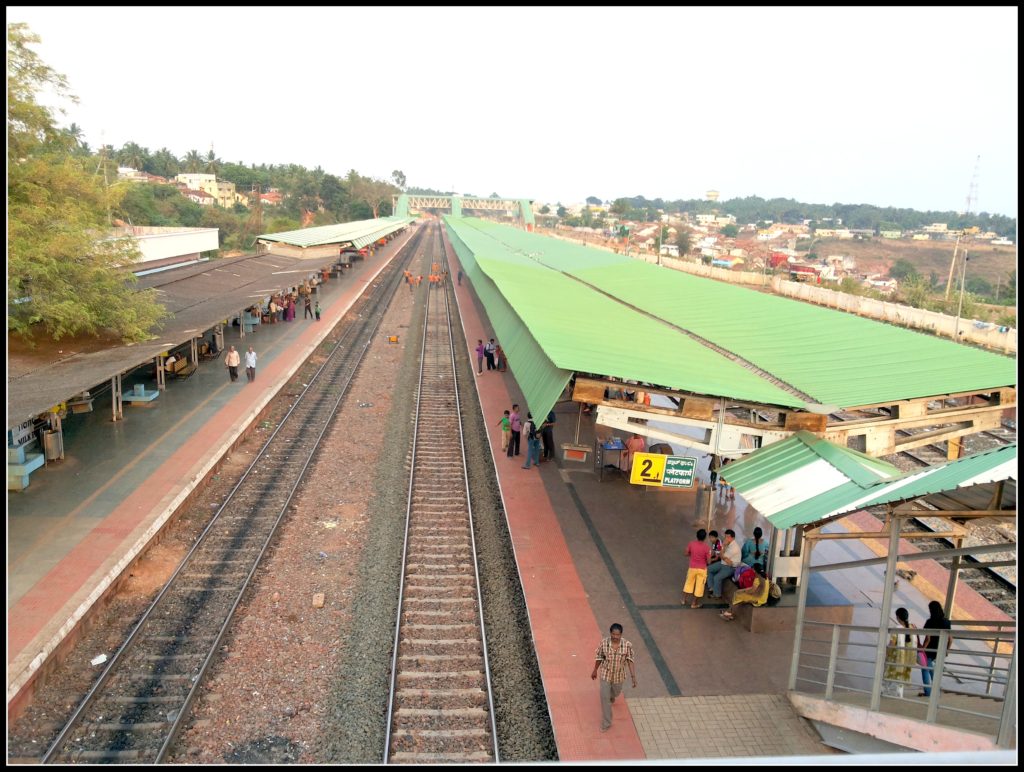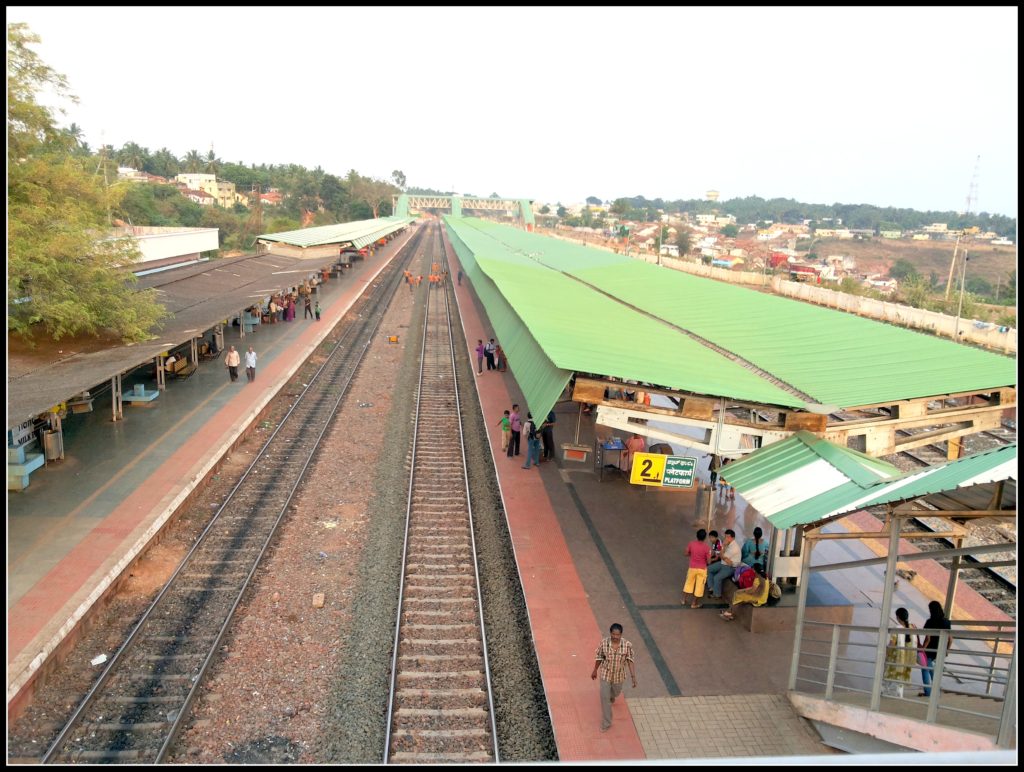 As we entered the station, I saw the station master writing on the notice board about the various trains that were to pass by Dharwad. Our train was also on the list and was expected to arrive at 19:30 instead of 19:10, its scheduled time. The station master had written – 06590 DR YPR SPL. Seems like he was not informed about the train's originating station. NTES showed a delay of 40 mins. I thought it's better to trust the station master than NTES and switched off the app. The station was nearly empty and we settled on the chairs on PF 2.
With an hour to kill, I went out to get some food packed as the train had no catering facility. Came back around 19:00 hrs to see the display boards on PF 2 displaying information about 17416 Haripriya Exp. The warm air blowing across the station was getting cooler and we anticipated it might rain.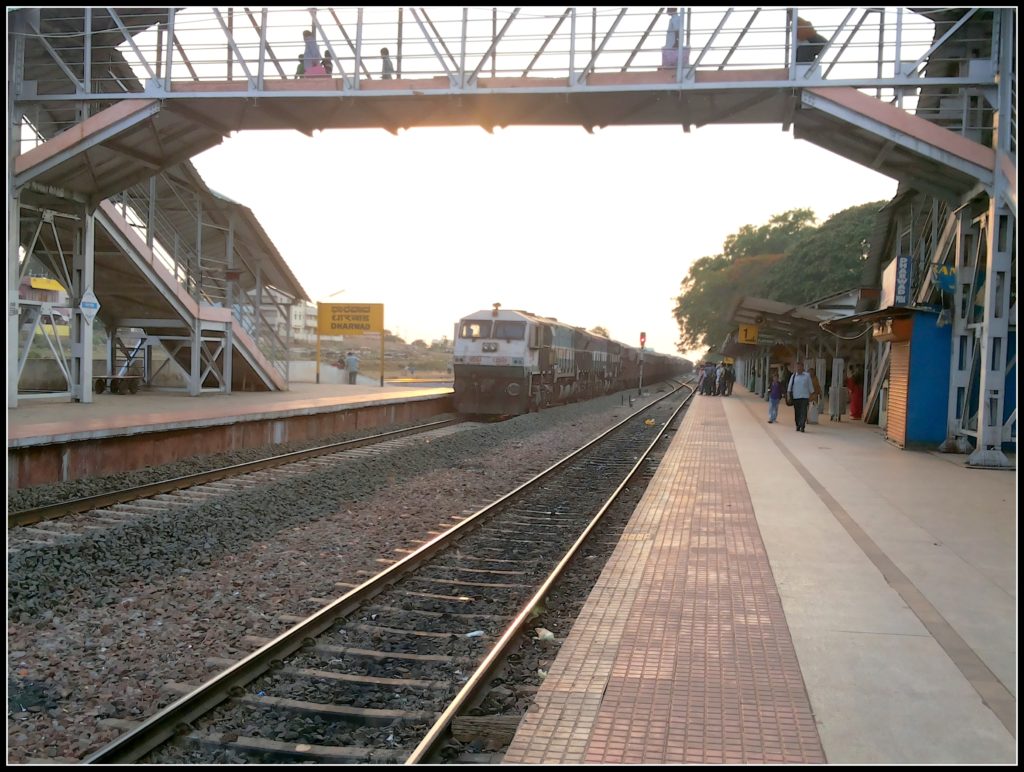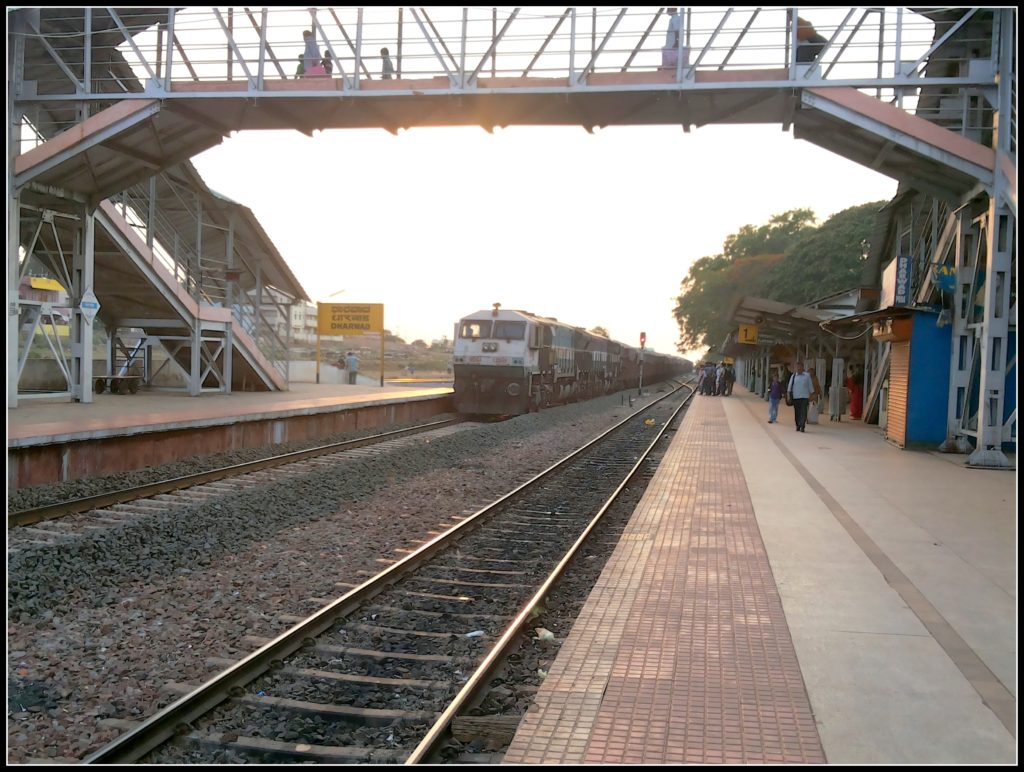 Exactly at 19:10, announcement was made for our train to arrive on PF 2 and at 19:15 the LHB rake entered the station hauled by Katni twins – WDM 2 (the lead loco in dark blue light blue livery) numbered 16784 and WDG 3A numbered 14594 (in orange and cream stripes livery). The train halted and we made our way to coach S5 which was numbered 13215/C manufactured in Nov 2013.
I was getting goose bumps as it was my first ride aboard an LHB coach. The interiors of the coach, fittings, screws, bottle holders, holding bags, switches were all intact and in one piece. The patronage was decent enough and 75% of the coach was occupied. The toilets were a bit dirty with water all over but this being a special train, we can't really complain much.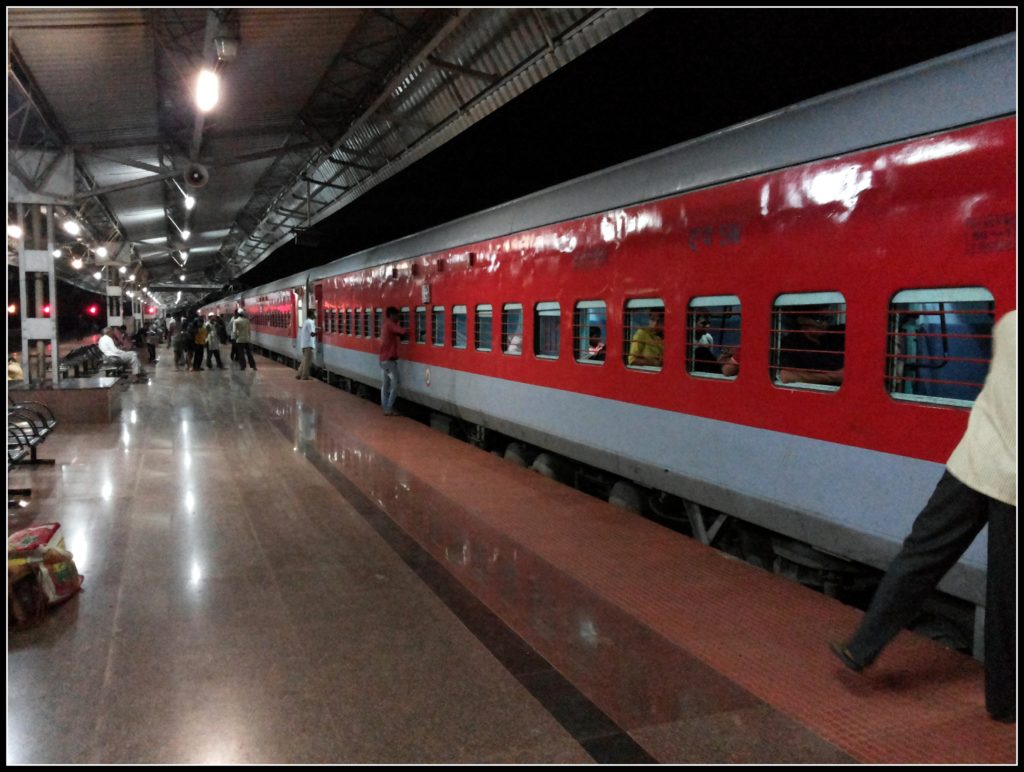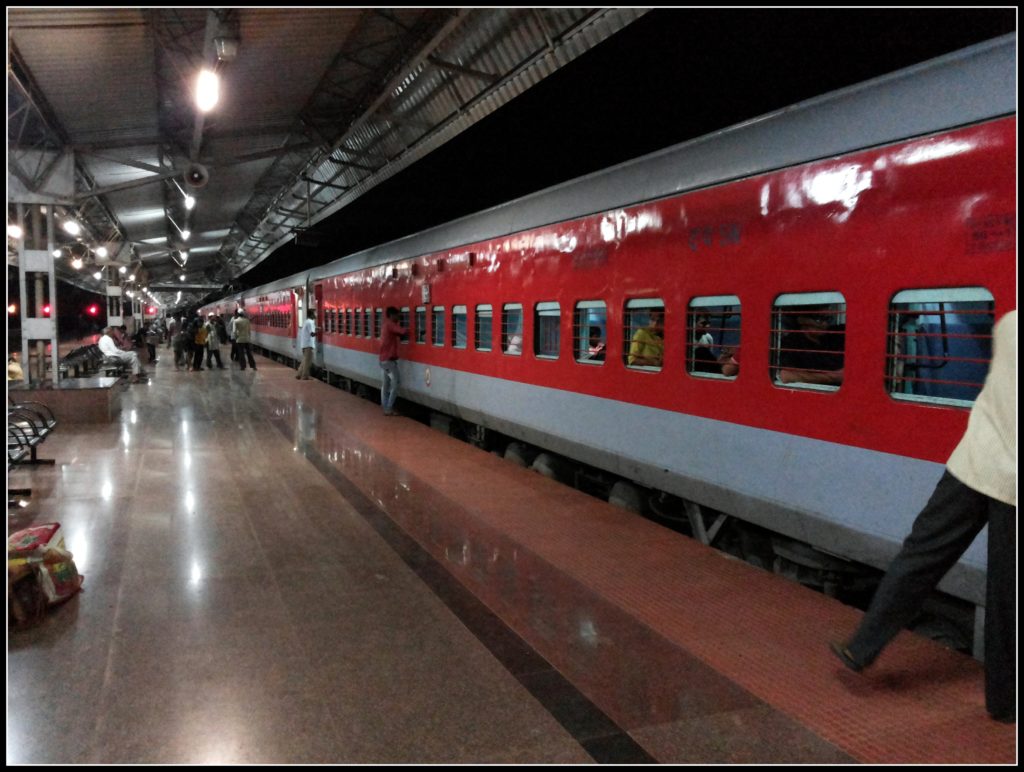 Around 19:30 hrs Mysore-Dharwad passenger made its way on PF 1 and we were given the starter immediately. The time was coming for me to experience the first LHB jerk that many people have talked about in this forum. And I must tell you all that it was a very bad jerk. My wife was drinking water and you can imagine what would have happened. Felt a few more jerks and we were out of Dharwad accelerating towards Hubli. The Katni twins were doing a splendid job and we were running at MPS in no time.
As we were gaining speed, the wind that was blowing mildly started becoming stronger and stronger as if it's competing with the twins. In a matter of 1-2 minutes, it started pouring cats and dogs accompanied by lightning and thunder. To add to the woes, we were hit by a severe hailstorm. The KTE twins gave up the race and bowed down in front of mother Earth and crawled at maybe 5-10 kph. Even though it was a really scary situation, I enjoyed this thunderous welcome by the rain Gods.
After around 10 minutes, the hail storm stopped but it continued to pour cats and dogs. Amidst all this, we reached Hubli 5 minutes late at 19:55 hrs. The rains gained a bit more momentum and were coming down hard. Hubli station was in total darkness with just an Amul shop selling ice creams and a small departmental store selling some Idly-Vada. Other than this I could only see red everywhere ie the red signals.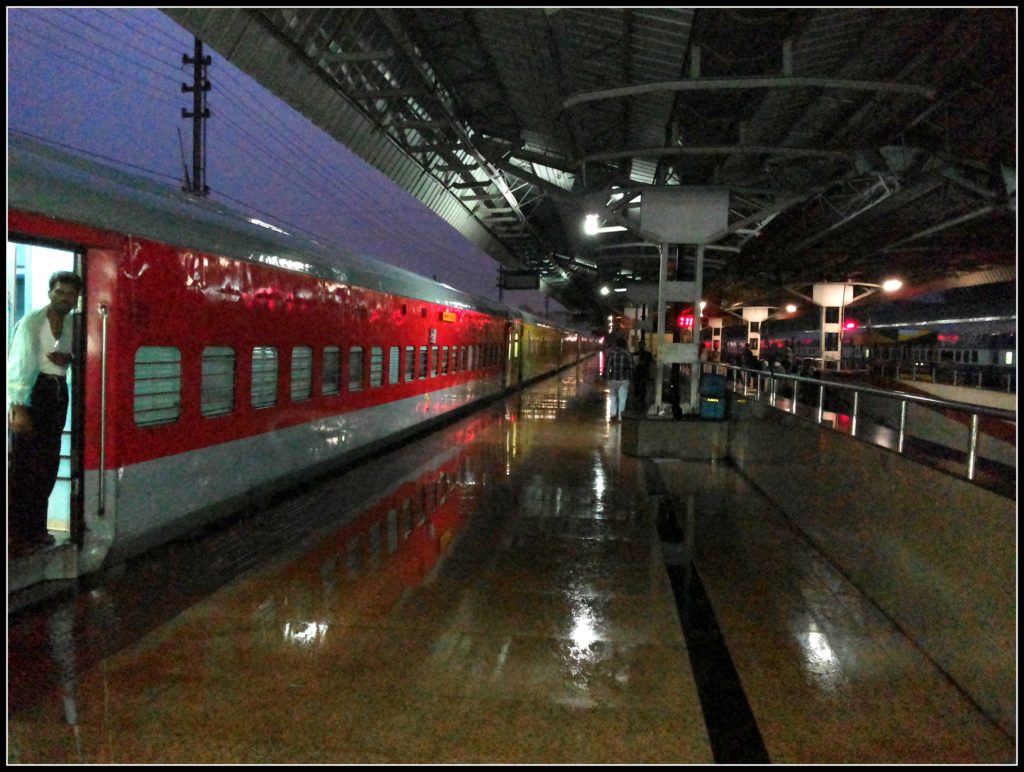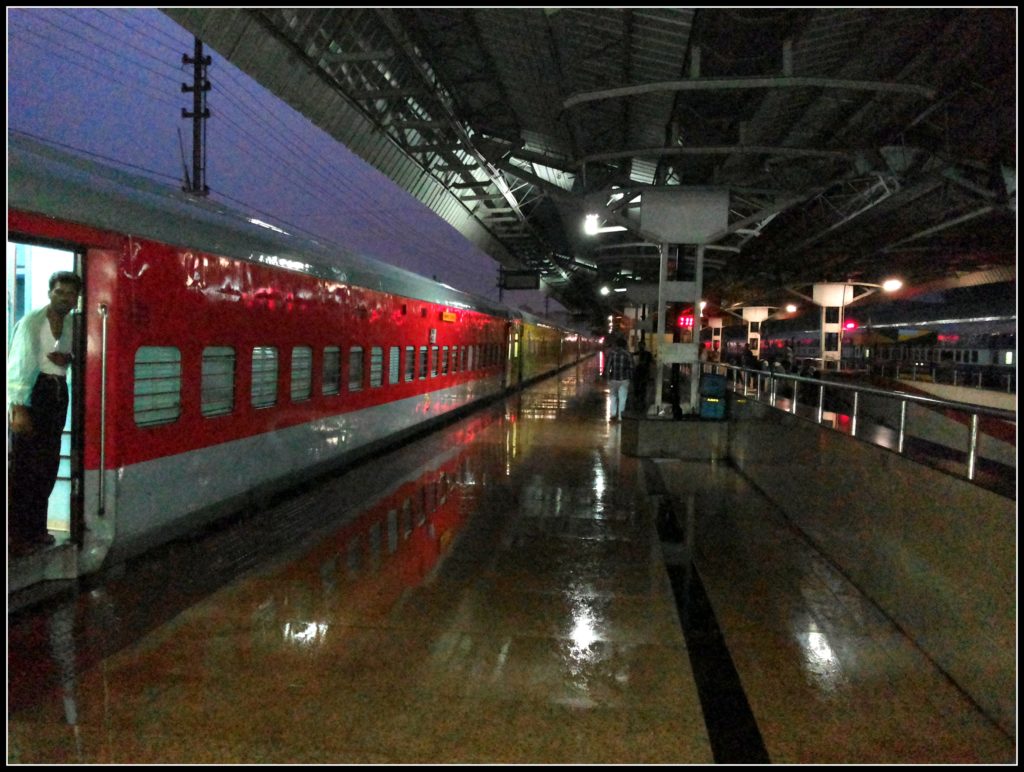 There was not a single soul out on the platform as it resembled a virtual swimming pool. I was fearing for the worst. In the meantime, the Pandharpur-Miraj-Hubli passenger arrived on the adjacent platform. It was 20:25 and our train was not moving at all. The rains now became a bit slow and I thought to go out and find some TTE or ask the LP/ALP if the train is going to move ahead or not. Just as I crossed S6, the twins sounded their powerful horn and the train started. I got into S6 and came to my coach and settled down. The train was doing speeds of 30-40 kph may be due to a caution order or a PSR/TSR because of the rains. After about 20-25 mins, the rains completely stopped and we entered a territory where not even a single inch of rain had fallen. It was totally dry as compared to the mini-cyclone in which we were caught a few mins back between Dharwad and Hubli.
The next few mins were uneventful and we were looped at some wayside station for a train to cross. Moved a bit ahead and another crossing awaited us. Further ahead another crossing. Accumulating a delay of almost 1 hour we reached Haveri at 22:00 for a 2 min stop. After this, we all thought to catch some sleep as we had a very early morning arrival at Yeshvantpur. The UB's, SLB and SUB were all empty and we were the only passengers in the bay. My dad made himself comfortable in the SLB while I took the MB. My wife and mom took LB's respectively. A cool breeze was blowing which had its impact on me and I was asleep in no time.
Thursday, 1st May, 03:00 hrs – I woke up suddenly around 03:00 hrs to find the train rushing at MPS. Switched on my cell and opened Google Maps as well as NTES to track the position of our train. Google Maps showed we were nearing Tumkur while NTES showed a delay of 1 hour in arriving at Tumkur. (Scheduled arrival time – 03:15 hrs, NTES time – 04:15). We reached Tumkur at 03:35 and left after a 2 min stop. It was double track so no more crossings till YPR I thought.
In the meantime, I also called up Taxi 4 Sure and booked a taxi to take me to my home from YPR. Woke up my parents and wife around 04:15 when we were speeding through Soldevanahlli. Crossed a couple of stations we reached YPR outer around 04:30 hrs. Some spotting's at Yeshvantpur are as follows –
1) The rake of YPR-KCVL/YPR-DEE Duranto was stabled in the pit lines.
2) Next to it, was a Garib Rath rake and next to it there was an express train rake.
3) A KJM WDM 2 was standing with some passenger train in the pit lines.
4) At the Coaching Depot 2nd Terminal, there were SL, 3A, SLR, 2A coaches. I also spotted a few coaches of the Golden Chariot.
5) Further ahead a rusted OHE maintenance van was parked.
Yeshvantpur was empty with no trains and as we switched points and made our way to PF 5, I noticed KJM WDM 3A, Guntakal WDG 3G and Moula Ali WDG 3A standing on PF 6. The train came to a halt exactly at 04:40 hrs (10 mins late) and we made our way to the exit through the FOB and into the taxi waiting for us. Just as we were leaving a train arrived on PF 1. The unreserved ticket counters at YPR were very much crowded even at this hour. A 20-minute ride and I were at my home sweet home after a whirlwind journey to Dharwad.
Minus the jerks right from Dharwad till Yeshvantpur, it was a pleasant experience in the LHB SL coach. Being a special train, I was a bit skeptical about the running time and cleanliness but I have no qualms now. While going towards the FOB at PF 5, I also noticed an AC Hot Buffet Car coach in the consist. A majority of the coaches were in Raj livery and a few in Duranto livery. The AC coaches also were decently occupied and overall I believe the occupancy must be around 75-80% which seems quite good for a special train though today was its last and final journey.
I have no clue why SWR discontinued this train after just 1 run. Maybe due to the influence of the bus lobby, maybe due to poor timings at both YPR and Mumbai or maybe something else. But for me, this will be a ride to remember for a long time to come and the thunderous welcome by the rain Gods will be etched in my mind forever.
Thanks a lot for reading this trip report. Comments/Feedback/Suggestions/Brickbats welcome.